5 Stocks to Watch This Week ($HD, $ONON, $CURI, $AEO, $DDOG)
Here are 5 stocks LikeFolio analysts are tracking this week:
The Home Depot (HD)
Home Depot is outperforming peer, Lowe's. Last quarter Home Depot beat earnings and revenue estimates and raised guidance, citing healthy demand and shoppers upgrading to premium product offerings. In contrast, Lowe's missed revenue estimates, citing cool spring weather and weaker than expected DIY demand.
Home Depot's exposure to professional consumers is bolstering demand as DIY consumer demand tempers. Consumer mentions of hiring a contractor remain +25% higher YoY while DIY home renovation mention growth stalls completely.
Home Depot reports 22Q3 earnings on Tuesday morning (8/16) before the open.
On Running (ONON)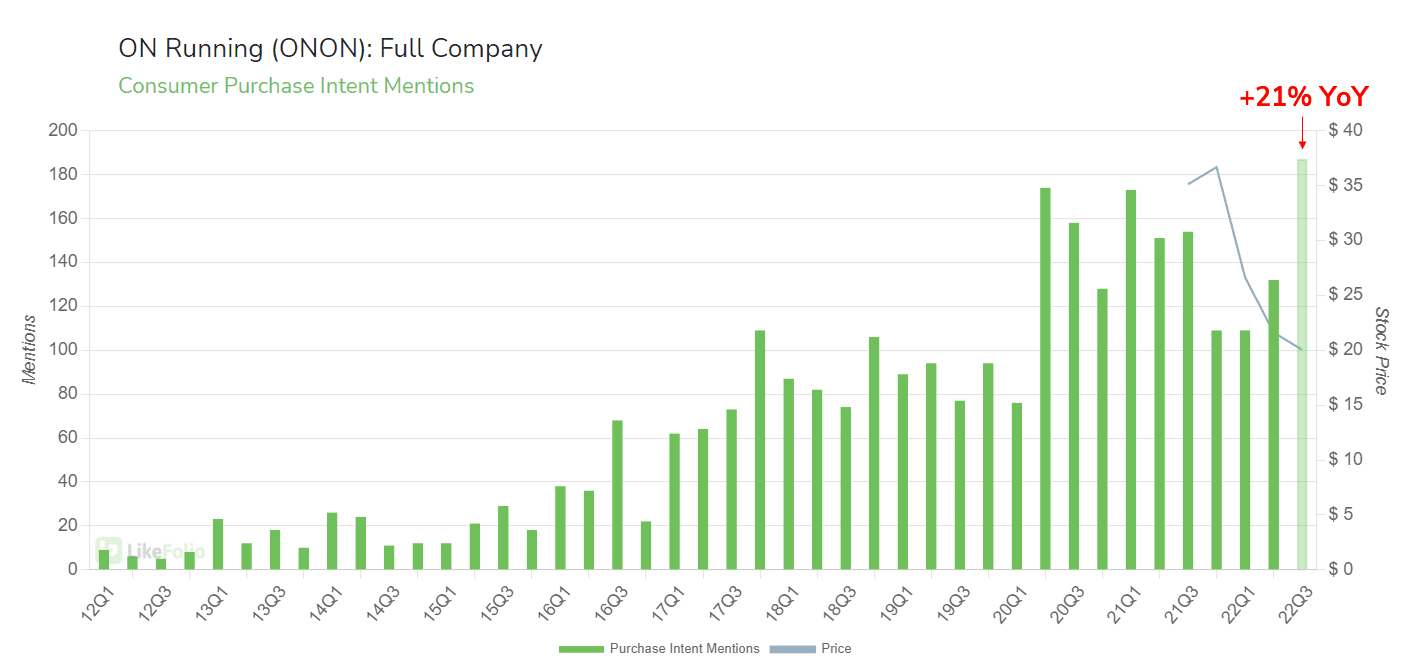 On Running, famous for its Swiss craftsmanship and unique Cloudtec technology, continues to grow in favor with consumers. Demand in 22Q3 is pacing for all-time highs, +21% YoY, a strong indicator for future guidance.
Consumer brand awareness for the ONON brand is growing at an even steeper clip, currently pacing +72% higher YoY. Mentions from consumers indicate repeat purchases and new color requests, suggesting its consumer base wants to stick around.
On Running reports 22Q3 earnings on Tuesday morning before the bell.
Curiosity Stream (CURI)
Consumer mentions of subscription fatigue are rising as the pandemic luster wears off and competition mounts. Mentions from consumers of having too many subscriptions to maintain are rising, currently pacing +44% higher YoY.
Curiosity Stream operates in a niche educational market, most known for its wide library of documentaries. While its user base is much smaller vs. players like Netflix, Disney+, and even HBO Max, its consumer base is loyal. Happiness remains 87% positive, one of the highest in our streaming universe.
CURI shares have shed 80% in value over the last year, suggesting a very low bar heading into this earnings event. Last quarter, Curiosity Stream leadership indicated the company plans to achieve positive cash flow from operations by the first quarter of 2023.
CURI reports 22Q3 earnings today (8/15) after market close.
American Eagle (AEO)
American Eagle is showing early signs of strength in 22Q3. After multiple quarters of lackluster growth, mention buzz is popping again, currently pacing +42% QoQ and +34% YoY.
Near-term strength is driven by back-to-school shoppers. Mentions from consumers who are shopping for new school clothes at American Eagle or Aerie have increased by 100% YoY. This outpaces generic back-to-school shopping growth, which has risen by +28% YoY.
American Eagle's flagship brand is showing signs of major improvement in overall happiness, currently near 88% positive, an +11% improvement YoY.
While American Eagle isn't slated to report earnings until the beginning of September, LikeFolio data suggests Bullish momentum.
Datadog (DDOG)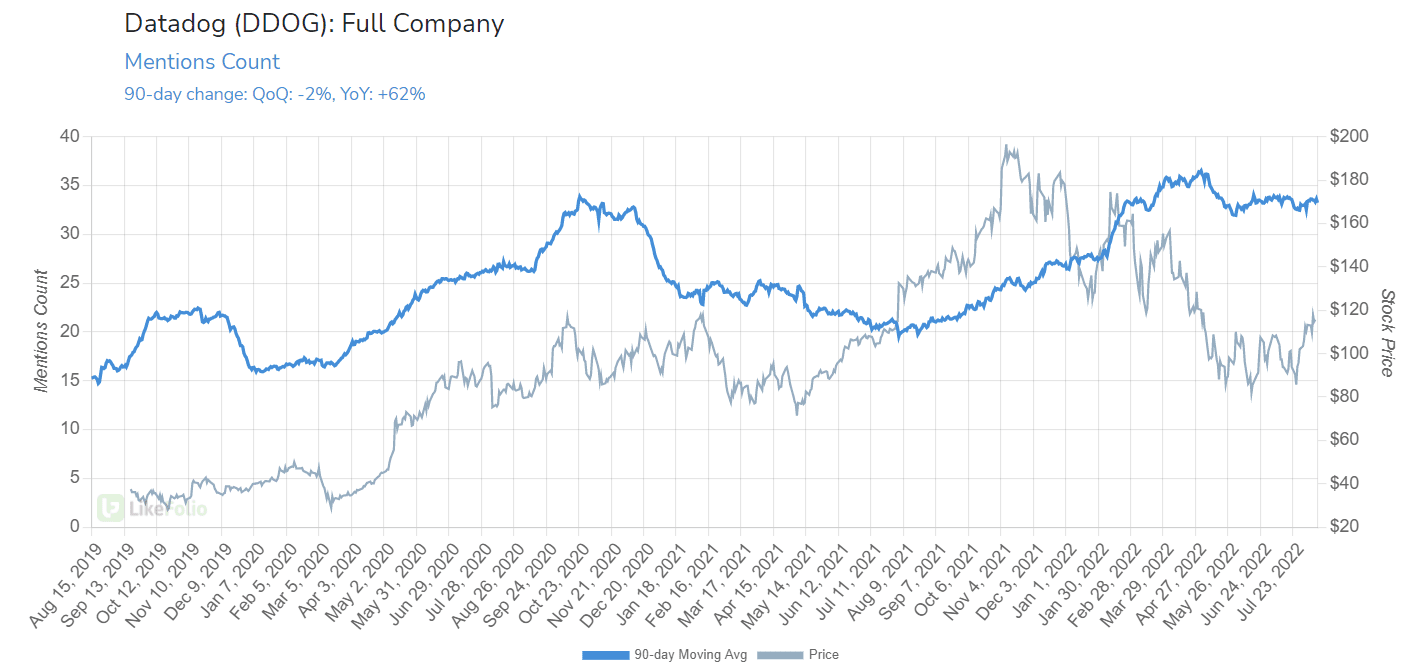 Buzz growth suggests a divergence opportunity may be developing in Datadog (DDOG). Mentions are currently pacing +62 higher YoY. DDOG shares have dipped by nearly -40% from November highs.
Datadog operates on a B2B level, providing software as a service (SaaS) to help companies monitor and troubleshoot their cloud infrastructure and security. Although LikeFolio's usage sample size is relatively low due to the nature of Datadog's business, consumers who report using the service are extremely happy. DDOG sentiment levels are 86% positive.
DDOG won't release its next earnings report until November, we've got a close eye on this one. Stay tuned for opportunities.