A Golden Opportunity for Coinbase (COIN)
In the early days of the American Gold Rush, prospectors flocked to California with dreams of striking it rich. They were pioneers, navigating uncharted territories in search of a golden future.
Today, we find ourselves at the cusp of a new frontier, not in the wild west, but in the world of cryptocurrency. And at the forefront of this modern Gold Rush is Coinbase Global (COIN).
Regulatory Approval: A Golden Opportunity
Coinbase has just received a golden ticket from the National Futures Association (NFA), a self-regulatory organization designated by the Commodity Futures Trading Commission (CFTC).
This approval allows Coinbase to offer regulated crypto futures to U.S. retail customers, marking a significant milestone for federal regulatory oversight over the crypto markets.
The news sent Coinbase's stock soaring by as much as 5% before the market opened on Wednesday. This comes at a time when the company is in court against the Securities and Exchange Commission (SEC), battling over whether certain crypto assets should be considered securities or commodities in the U.S.
Bridging the Gap
Greg Tusar, vice president of institutional product at Coinbase, encapsulates the significance of this development:
"Access to a CFTC-regulated crypto derivatives market is essential to unlocking significant growth and enabling broader participation in the cryptoeconomy."
This move by Coinbase is more than just a business expansion; it's a bridge between traditional financial markets and the burgeoning world of cryptocurrency.
LikeFolio's Bullish Stance on COIN
Our latest BUY recommendation on Coinbase occurred in our May 17, 2023, MegaTrends Report on The Power of the Blockchain.
Since then, the stock has risen from $61.04 to nearly $80.
Here's the scoop behind our bullish stance:
LikeFolio Social Heat Score: 89 (very bullish)
COIN Sentiment: Best of breed. Improved consumer happiness, trust in regulation, compliance, and security.
Web Visits: Reached an inflection point, reversing a multi-year downward trend.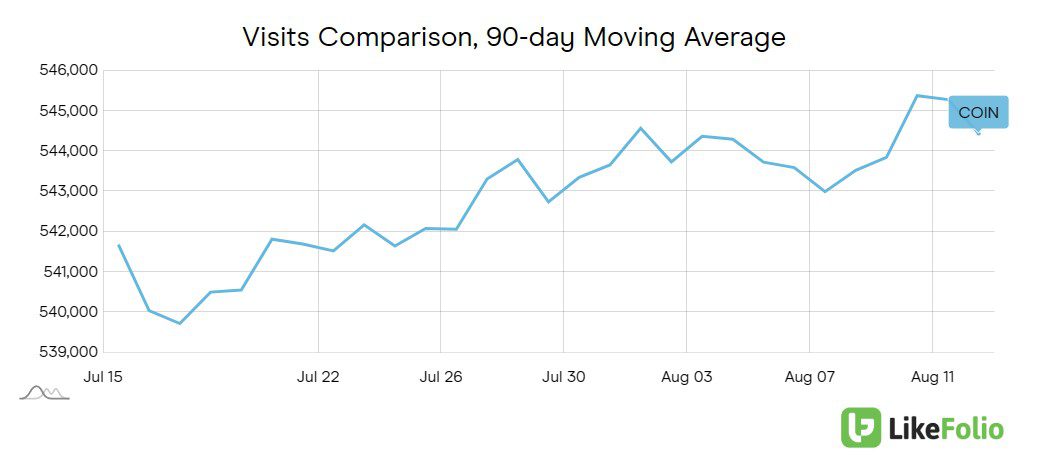 Renewed Interest in Cryptocurrency: A major tailwind for Coinbase.
Conclusion: A Future as Bright as Gold
Just as the Gold Rush transformed America, the crypto revolution is reshaping the financial landscape. With its recent approval to offer crypto futures, Coinbase id poised to lead this transformation.
The future of crypto is here, and in Coinbase's case, it looks as bright as gold.