Disney's Monster Bet
As consumers navigate through tighter budgets and an uncertain economy, their appetite for memorable experiences remains undiminished.
A recent study confirms a striking trend: more than half of consumers (51%) are still prioritizing expenses on experiences over other discretionary spending.
This preference for meaningful engagement helps to explain Disney's strategic pivot towards creating immersive experiences in its theme parks and through its streaming services.
So is it working? Take a look for yourself.
Disney Parks: A Profit Engine in the Experience Economy
Data from LikeFolio underscores the resilience of Disney's experiential offerings. Despite rising ticket prices,, the company's vacation planning website has seen a significant uptick in visits (+42% YoY), indicating a robust and ongoing demand for the unique joy that Disney parks provide.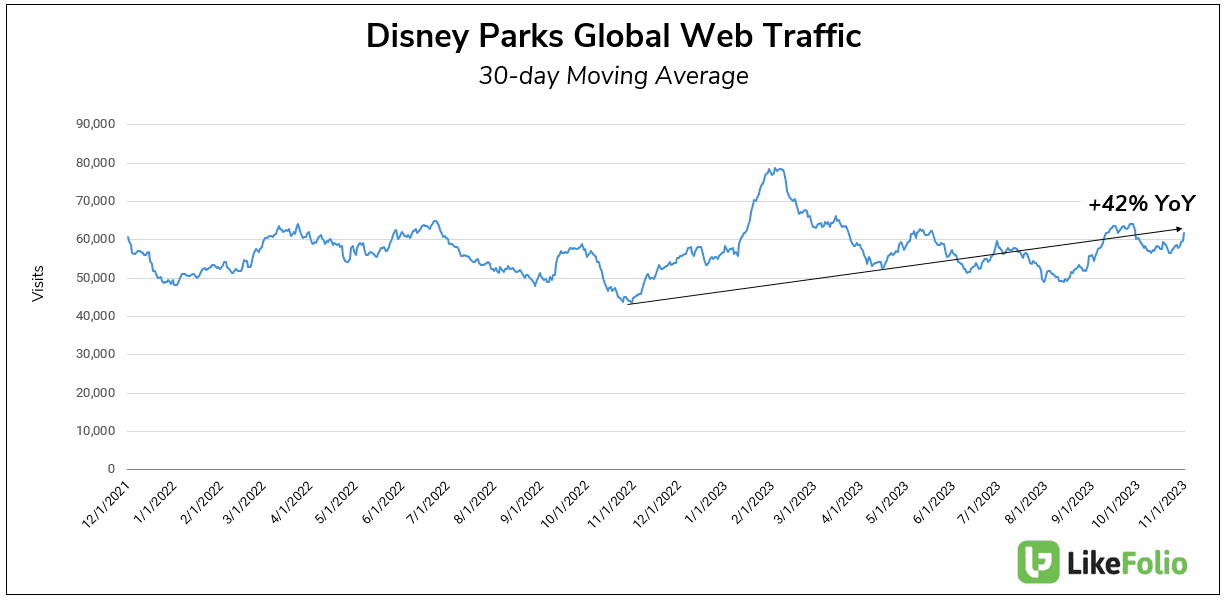 Last quarter, DIS revenue for its Parks, Experiences, and Products was a standout, with a significant increase compared to the same quarter last year (+13% YoY to $8.3 billion). The growth was attributed to higher volumes and guest spending, reflecting the ongoing recovery and normalization of operations post-pandemic.
The segment benefited from increased attendance, occupied room nights, and cruise ship sailings…and data suggests this is likely to continue.
Disney plans to nearly double its parks' capital expenditure to $60 billion over the next decade, emphasizing the segment's role as a profit engine to offset streaming losses. This investment will fund new attractions and expansions, including significant developments in Florida and California, despite political challenges in Florida. The parks' segment has shown consistent growth and profitability, with Disney also planning to expand its cruise line capacity by adding new ships.
Speaking of streaming losses…
Streaming Services: A Symphony of Satisfaction
Despite slowing growth, Disney's streaming services rank high in consumer satisfaction, outshining peers with a comprehensive entertainment package that rivals traditional cable.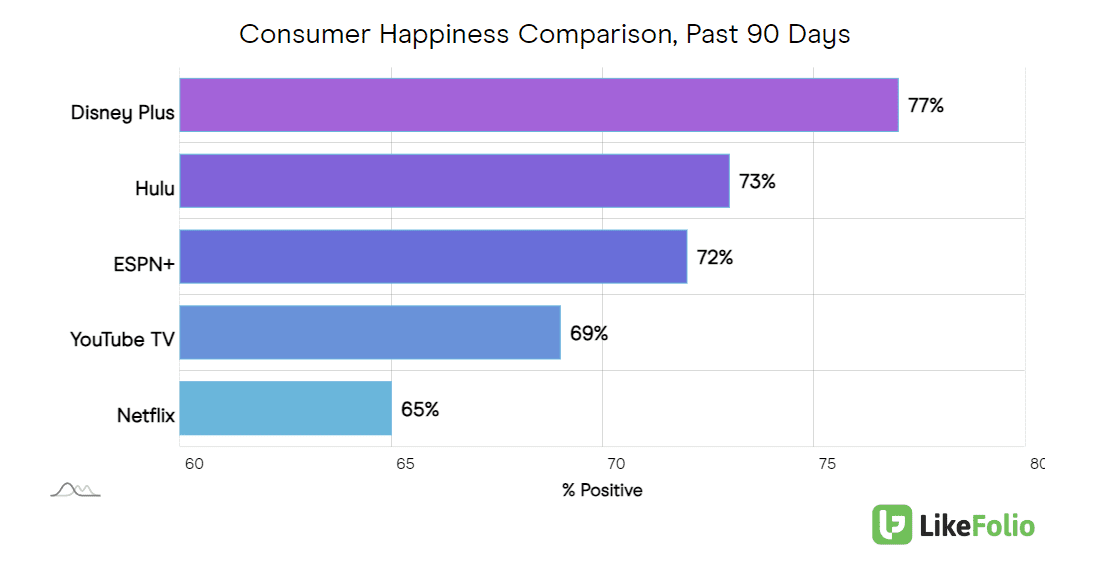 Last quarter Disney+ total subscribers disappointed, reaching 146.1 million viewers vs. the 151.1 million expected.
LikeFolio data does show continued slow-down in site visits for Disney streaming platforms, so investors can expect this segment to continue to weigh on results in the near-term.
The Future of Disney's Storytelling and Services
Looking forward, Disney is sharpening its focus on the quality of its films and the efficiency of its streaming services. CEO Bob Iger's strategy to refine content and evaluate core services is a forward-thinking approach that aims to solidify Disney's position as a premier entertainment provider.
The Market's Magic Mirror
Despite the volatility in the stock market, Disney's robust park attendance and consumer spending reflect a potential offset to the streaming segment's slower growth. With the stock trading at compelling levels, Disney's commitment to delivering top-tier experiences makes it an attractive bet for investors who value the long-term appeal of this blue-chip company.