Another Bitcoin Boom?
Bitcoin's Break Above $37k Signals Market Optimism
This morning Bitcoin broke above the $37,000 threshold, stirring optimism among investors and signaling that the prolonged cryptocurrency winter may be coming to an end.
This rally has been marked by a robust 30% increase in Bitcoin's value in under a month, renewing confidence in the cryptocurrency's market position and potential for growth.
The Anticipation of Bitcoin Spot ETFs
Investor sentiment has been buoyed by the pending approval of Bitcoin spot exchange-traded funds (ETFs) in the United States. The introduction of such financial products is expected to unlock massive demand for Bitcoin as they will provide an accessible avenue for both retail and institutional investors to gain exposure to Bitcoin without the complexities of direct ownership.
Rising Interest in Bitcoin
Data from LikeFolio underscores the growing public interest in Bitcoin, with mentions of the cryptocurrency climbing by 21% year-over-year (YoY). This uptick in interest is particularly noteworthy as it outpaces other major cryptocurrencies, such as Ethereum, which has seen a 35% decrease in mentions over the same period.

Despite this resurgence of attention, Bitcoin's current price remains significantly below its all-time high of nearly $69,000, reached in the fall of 2021.
A Shift in Investor Activity
The current rally is not an isolated event but rather part of a larger trend in investor behavior. LikeFolio's data indicates a general increase in consumer discussions around trading and investing in cryptocurrencies, with a 30% rise in trading mentions and a 7% increase in investment mentions YoY.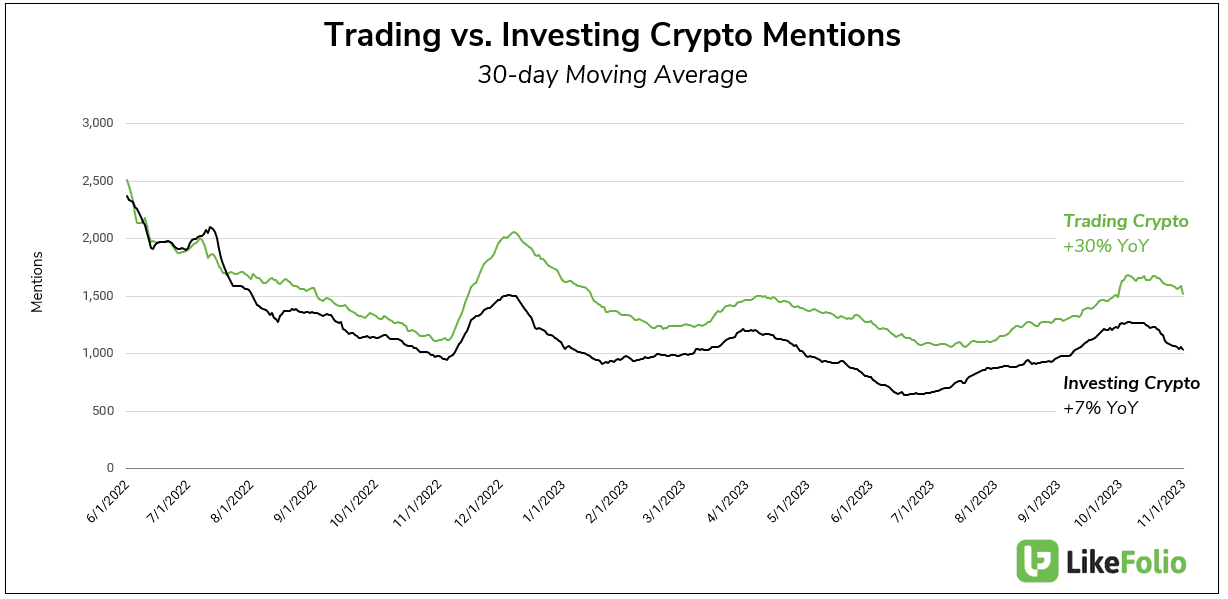 This is in stark contrast to the decline in retail trading mentions, which have fallen by 6% YoY.
The Ripple Effect on Related Companies
This shift in market dynamics is poised to benefit cryptocurrency-related companies, such as Coinbase (COIN). As Bitcoin's price ascends and trading volumes swell, COIN's revenue from transaction fees is likely to increase.
Mentions of COIN have risen by 9% YoY, suggesting that consumer interest in the platform is growing alongside the cryptocurrency market.
A Bullish Outlook on COIN
The positive trajectory of Bitcoin and the broader cryptocurrency market has reinforced our Bullish thesis for Coinbase. Our most recent position in COIN, as recommended in our "Power of Blockchain" MegaTrends report, is currently sitting at a 44% gain. With the market's momentum and the potential influx of new investment through Bitcoin spot ETFs, our outlook on COIN, and the cryptocurrency sector as a whole, remains bullish.