Don't Count Lowe's (LOW) Out Yet
The Silver Lining in Lowe's Home Renovation Playbook
"The best investment you can make is in your home," said Frank Lloyd Wright, the iconic American architect. In a world where mortgage rates are skyrocketing and home sales are dwindling, this wisdom holds more weight than ever. Let's dive into why Lowe's Companies, Inc. (LOW) could be the dark horse in the home renovation market, despite the challenging economic landscape.
The Mortgage Rate Conundrum
Mortgage rates reached a staggering 20-year high in August, averaging 7.09% for a 30-year fixed-rate home loan. This has led to a decline in new listings and a drop in the total number of homes available for sale. However, data at the end of August shows that rates are beginning to level off.
Here's why there's room for optimism:
The Seasonal Decline: A Ray of Hope
Despite these headwinds, there's a silver lining. Sabrina Speianu, the economic data manager at Realtor.com, points out that home prices are unlikely to surpass their June 2022 high of $449,000. As we approach the end of the year, the median listing price is expected to decrease, offering a much-needed respite to potential homebuyers. Fall is traditionally the best time to buy a home, and this could be a boon for Lowe's.
2. The Return of Home Renovation
Home Renovation mentions have increased by +12% YoY. Some of this growth is driven by homeowners making upgrades due to high mortgage rates, while others are preparing their homes for sale.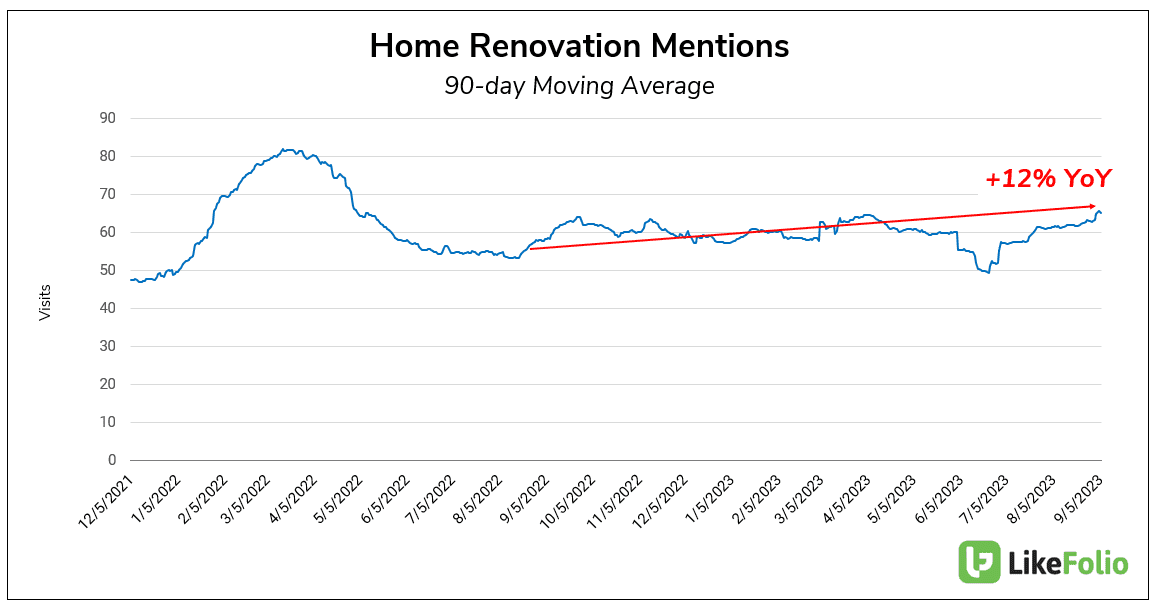 3. Lowe's Takes the Lead in Consumer Happiness
When it comes to consumer happiness, Lowe's (LOW) is outperforming its peers. The company registers a 62% positive rating, which is 2 points higher than Home Depot and a whopping 10 points higher than Wayfair.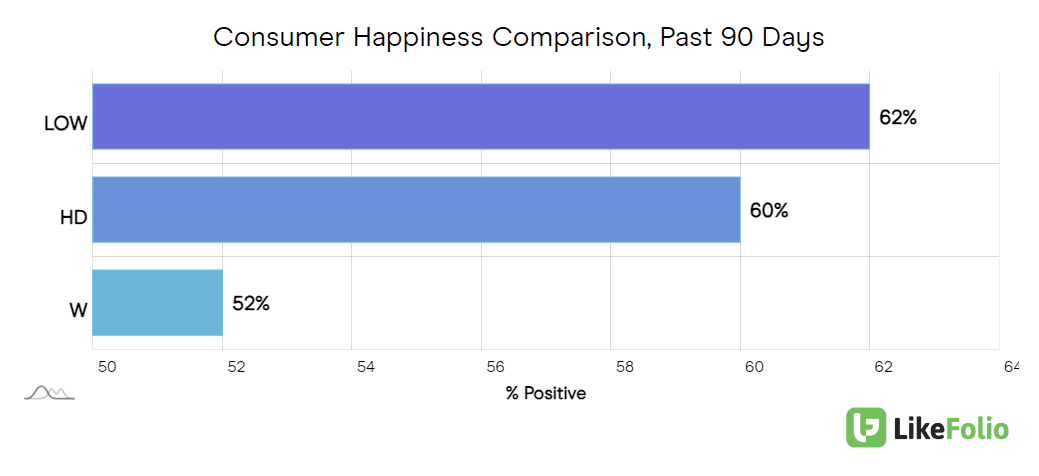 The Financials and the Future
In its last quarter, Lowe's reported mixed results. While earnings surpassed Wall Street expectations, sales slightly missed the mark. Despite this, CEO Marvin Ellison remains optimistic about the long-term outlook for home improvement, citing the older housing stock and limited availability in the U.S. as key drivers.
The Bottom Line
The home renovation market is showing signs of life, and Lowe's is leading the way in consumer happiness—a strong indicator of long-term growth. As we watch for macro signs of improvement, such as cooling mortgage rates and declining home prices, Lowe's stands as a strong contender in the home improvement sector. If these factors align, it could serve as a major catalyst for not just Lowe's, but all home improvement names on the list.
The data doesn't lie. In a world full of uncertainty, Lowe's offers a glimmer of hope for both homeowners and investors alike.