GM at a Crossroads: Strikes, EV Challenges, and the Road Ahead
GM: Navigating the Road Ahead
In the ever-evolving landscape of the auto industry, General Motors (GM) finds itself at a crossroads. As investor eyes keenly watch the looming auto strike, LikeFolio delves deeper, not to predict the outcome of negotiations, but to gauge the pulse of consumer demand and sentiment.
Here's GM's current standing amidst its peers and the challenges on the horizon.
GM's Financial Drive
The second quarter saw GM cruising with a net income of $2.54 billion, a commendable 52% YoY surge. The wind beneath its wings? Stellar vehicle sales, aggressive pricing, and strategic cost-cutting. Paul Jacobson, GM's CFO, underscored that consumers shelled out an average of $1,600 more per vehicle than the previous quarter, with the average U.S. sale price hitting the $52,000 mark.
Consumer Sentiment: A Mixed Bag
LikeFolio's data paints a picture of cautious optimism. Mentions have revved up by +12% YoY, even as GM's stock takes a pit stop.

The engines driving this buzz?
The iconic Chevy and the luxurious Cadillac brands.
But the road isn't entirely smooth. When it comes to the digital highway, GM lags behind the EV maestro, Tesla, and other premium auto giants.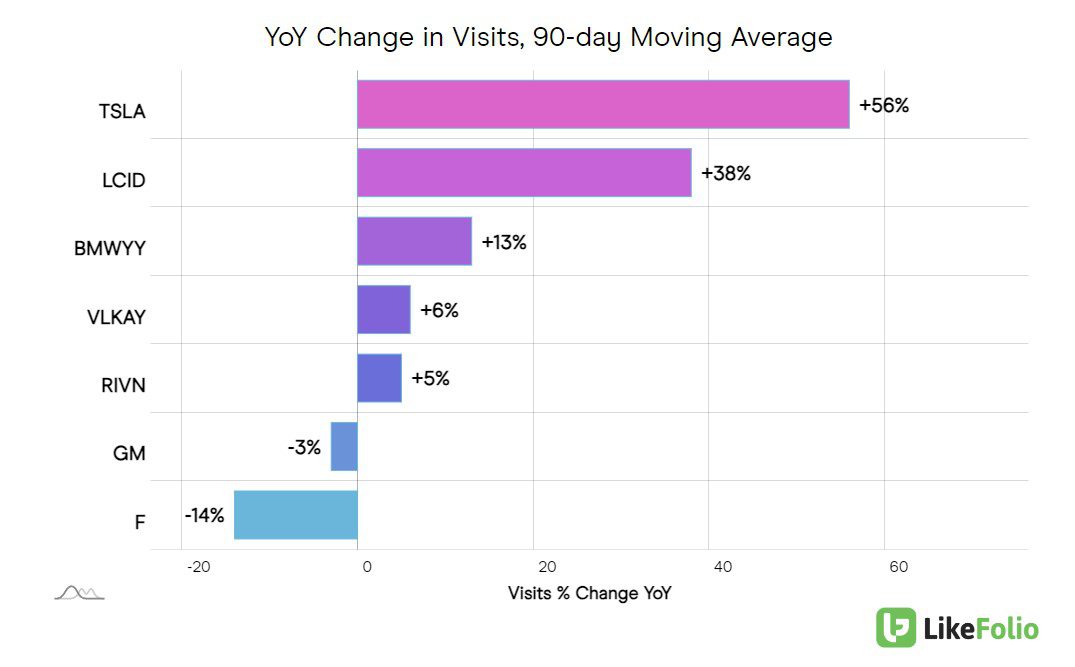 A -3% YoY dip in web traffic places GM alongside traditional counterpart, Ford.
While some argue that GM's clientele might favor the tactile experience of a dealership, this digital decline could also flash warning lights for future growth.
Electric Dreams or Nightmares?
GM's electric ambitions, embodied by the Chevy Bolt, have hit a few speed bumps. Recent recalls, including one involving a shocking 9,423 power cords posing electric shock risks, have dented its image. Add to this a previous recall of a staggering 140,000 Bolts due to fire hazards.
These roadblocks have forced GM to reroute its journey for the Bolt, signaling its discontinuation by 2023's end. However, whispers in the industry hint at a potential revival, powered by cutting-edge battery tech.
Labor Pains and Potential Strikes
The threat of worker strikes looms large. The United Auto Workers union, in its negotiations with Detroit's Big Three, has dialed down its wage hike demands. While Stellantis stock has revved up, GM and Ford remain in neutral gear. The crux lies in bridging the chasm between UAW's demands and the manufacturers' offers.
The clock is ticking, with union contracts expiring on Sept. 14.
The real test? The duration of any ensuing strike and its ripple effect on sales.
The Macro View
Broad data sketches a decline in new vehicle sales, aligning with seasonal patterns. August 2023 saw sales decelerate to 15.04 Million from July's 15.75 Million. While there's been a rebound from the 2020 slump, numbers still lag behind pre-pandemic figures. The culprits? Supply chain hiccups and climbing interest rates. Forward looking projections skew to the downside (sales charted below).
Bottom Line
GM showcased its prowess in cost optimization last quarter, and the consumer buzz is undeniably on the rise. Yet, challenges loom. Its digital presence is trailing peers, and its electric dreams seem more turbulent than triumphant. Any positive turn in negotiations could turbocharge its shares, especially given the recent 11% dip over three months, contrasting its robust Q2 performance. Our stance? Cautiously optimistic, with a keen eye on GM's evolving product arsenal.
Landon talked about this in detail on the Schwab Network: Check it out.