Doordash (DASH) Deep Dive
"The best time to plant a tree was 20 years ago. The second-best time is now." This ancient Chinese proverb perfectly encapsulates the journey of DoorDash (DASH).
Founded in 2013, the company has been planting seeds for years, and now it's time to see if they will bear fruit.
Playing The Long Game
DoorDash has positioned itself as a company focused on the long haul. During the pandemic, the company slashed its commissions by 50% to help struggling local restaurants. This move cost them over $100 million, but it was a strategic play to build lasting relationships and goodwill.
The thought: eventually it would be time to rev up growth, with a loyal base.
That time is now.
The company's revenue has been growing consistently in the 30%+ range, and its bottom line is growing even faster.
However, LikeFolio data suggests that DoorDash may still need some time to be firing on all cylinders.
While the company has seen an +18% YoY increase in mentions on a 90-day moving average, the 30-day moving average shows a more modest +7% increase.
This could indicate a potential slowdown in consumer usage.
The (Increasingly) Competitive Landscape
DoorDash is still the dominant player in the food delivery industry, holding 80% of the mention volume against its competitors in the LikeFolio universe.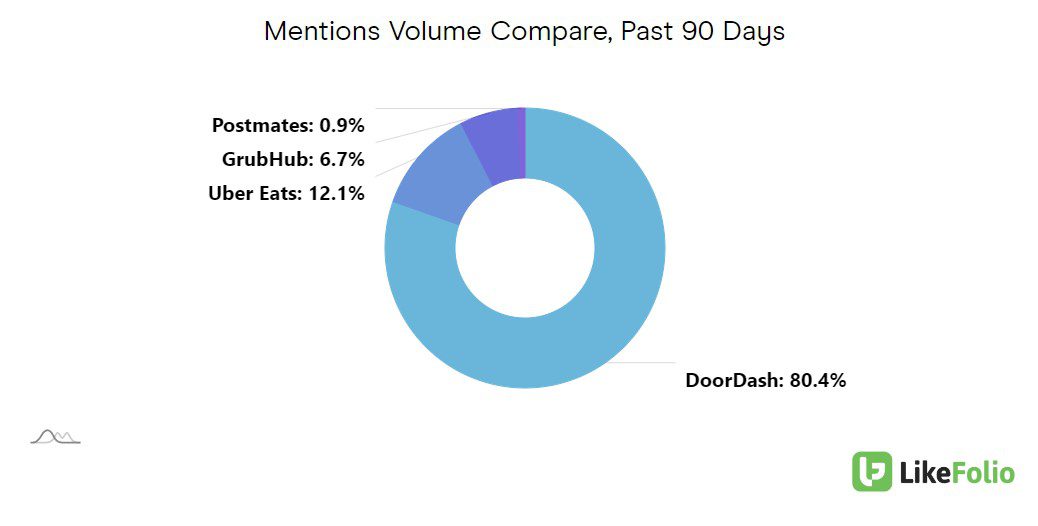 But the landscape is changing.
Uber Eats is growing faster, with a +21% YoY increase in mentions, besting DoorDash and Grubhub.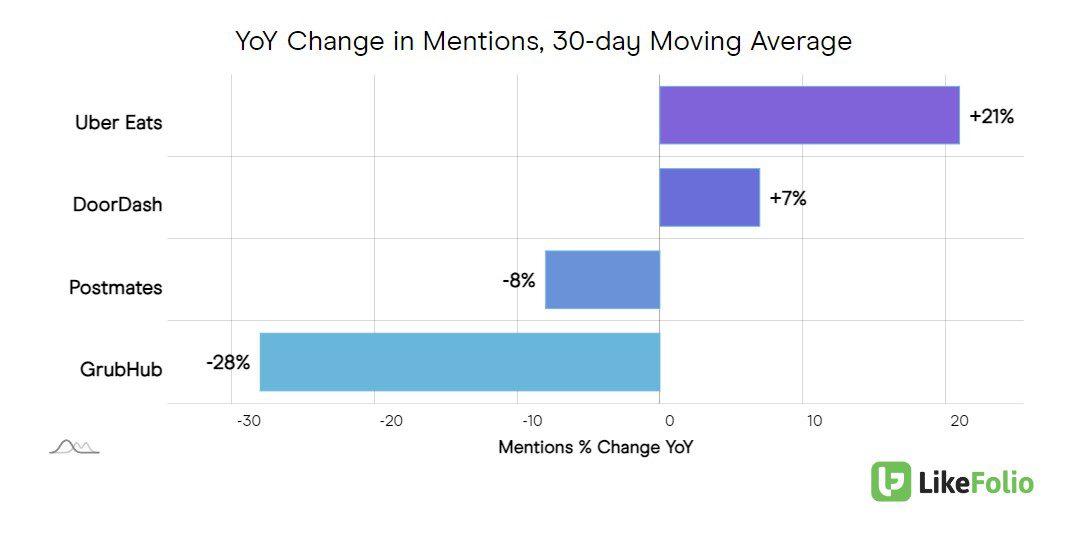 Uber's all-in-one app connecting ride-hailers and food delivery appears to finally be gaining traction.
Investors should keep an eye on this, as it could indicate market share steal underway.
Innovations and Challenges
DoorDash isn't resting on its laurels. The company is continually investing in its services, expanding into new categories like grocery and convenience stores, and even making international acquisitions like the European food-delivery company, Wolt.
These moves have paid off, especially when it comes to consumer sentiment. DoorDash leads peers alongside GrubHub at 42% positive mentions, besting Uber Eats by 3 points.
(Postmates, which has the highest positive mentions at 53%, is slowly being incorporated into parent company Uber Eats).
However, our data shows a 3% YoY decline in website visits, which could be a red flag for the company as we head into the holiday season.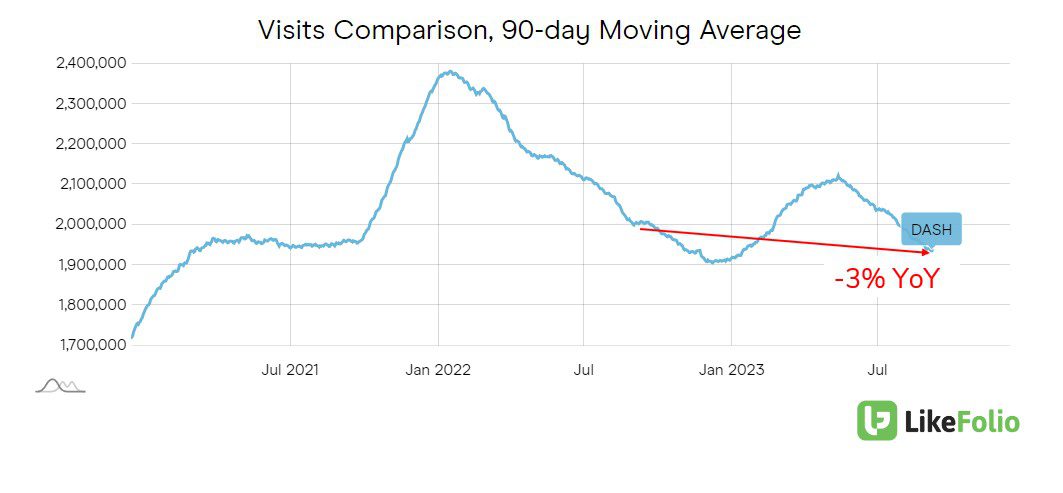 The Bottom Line
DoorDash has been making headlines in light of Instacart's recent IPO and its own rising stock price.
But does the data suggest more room for growth?
Not at the moment.
We're officially neutral on DoorDash…. for now.
While it's currently the clear market leader, consumer metrics show some signs of a consumer cool down alongside rising competition.
In the world of investing, it's crucial to separate the sprinters from the marathoners.
DoorDash has shown it's in for the long run, but the race is far from over.
We're keeping a close eye on this one.
As always, LikeFolio members will be the first to know when consumer data suggests a big profit opportunity in DoorDash or its competitors… in either direction.