5 Questions Apple MUST Answer at This Week's Keynote
5 Questions Apple MUST Answer at This Week's Keynote
"Innovation distinguishes between a leader and a follower." - Steve Jobs
The Stage is Set
Apple's annual Keynote Event is just around the corner, and the tech world is buzzing with anticipation. But as we've seen before, not all that glitters is gold. Remember September 2018?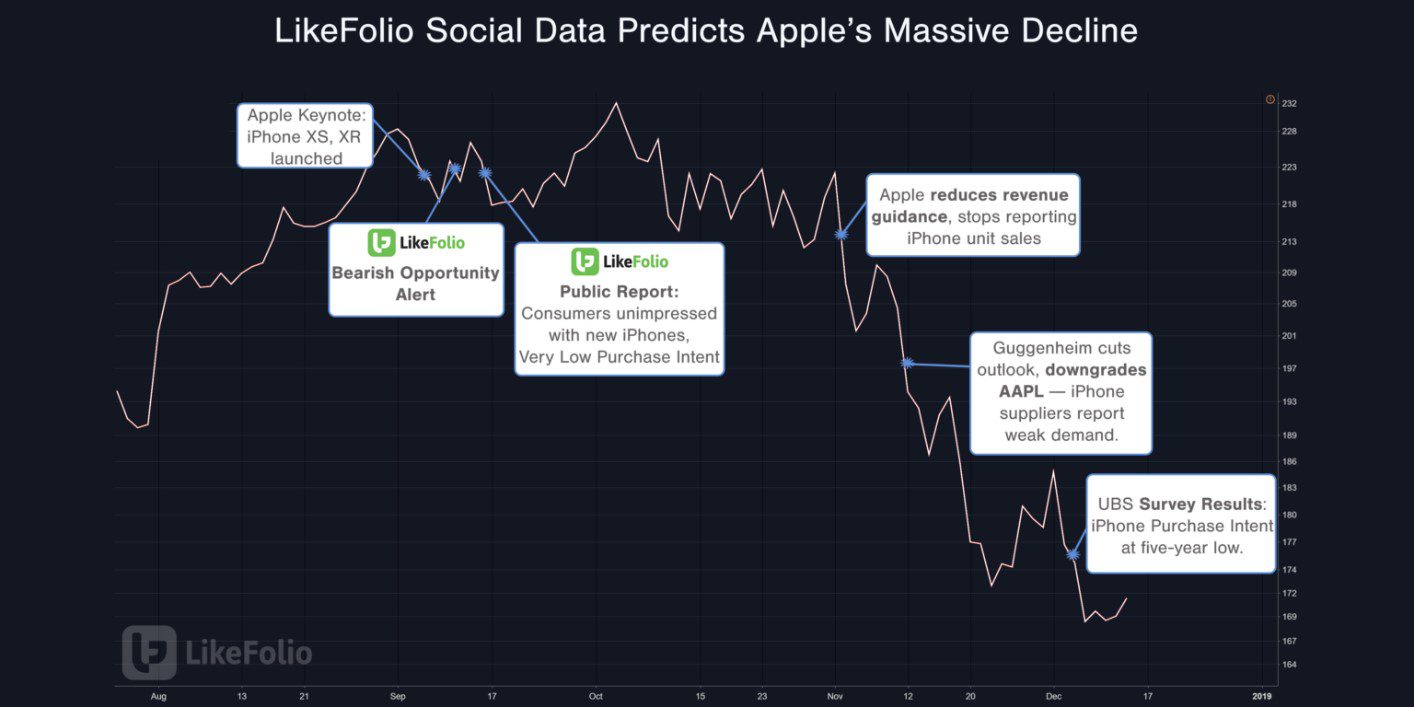 LikeFolio alerted members to a poor consumer reaction to Apple's Keynote, and Wall Street was left scrambling as Apple Inc. (AAPL) stock plummeted 30%. We saw it coming months before anyone else, thanks to our real-time social media data analysis. Read our 2018 analysis here.
The Questions Apple Must Answer
Will the iPhone 15 Live Up to the Hype?
Rumors: The iPhone 15 is expected to feature a periscope camera, a titanium frame, and a customizable Action button.
LikeFolio's Edge: We'll be monitoring consumer sentiment in real-time to gauge whether the new features are resonating with potential buyers.
Is Apple Still an Innovator?
Rumors: Beyond the iPhone, Apple is expected to unveil new Apple Watch Series 9 and Ultra 2 models, along with USB-C AirPods.
LikeFolio's Edge: Our data will reveal if consumers see these products as groundbreaking or just incremental updates.
How Will the Pricing Strategy Affect Sales?
Rumors: The iPhone 15 is expected to come with a hefty price tag, potentially starting at $1,299.
LikeFolio's Edge: We'll analyze social media chatter to see if consumers are willing to pay a premium for the rumored features.
What's the Buzz Around the New App Store for Vision Pro?
Rumors: Vision Pro is rumored to get its own App Store, opening a new avenue for software and services revenue.
LikeFolio's Edge: Our analysis will show whether this new platform is generating excitement or falling flat.
How Will Wall Street React?
Rumors: Wall Street is closely watching the event, but as we've seen, their reactions can be out of sync with consumer sentiment.
LikeFolio's Edge: We'll have the first insights into consumer reactions, giving you the edge before Wall Street catches up.
The Bottom Line
These are the questions that Apple must answer to maintain its market dominance and investor confidence.
And LikeFolio Pro members, you're in for a treat.
Later this week, we'll be releasing an exclusive report on the consumer reaction to the Apple Keynote event. This is the kind of data-driven insight that gives you the edge in a volatile market on tech's biggest and most influential name…