The Sports Betting Gold Rush: Are You In?
Betting on the Future: The Rise of Sports Betting in the U.S.
In the heart of the Bluegrass state, betting on the Kentucky Derby is more than just a gamble—it's a tradition. Yet, placing a wager on any other sporting event was a no-go, at least legally. Times have changed.
This week, Kentucky joined the ranks of states embracing the future, legalizing sports betting and taking the tally to 36 states. The financial implications are noteworthy, even for a modest state like Kentucky. Projections suggest the state's sports betting handle could touch a whopping $3.2 billion annually.
But here's the game-changer: this move comes right before the NFL season kicks off.
Why the NFL Season Matters
The NFL isn't just about touchdowns and Super Bowl rings; it's a pinnacle for sports betting. Last season alone raked in a record-breaking $60 billion in commercial gaming revenue.
The league's nod to gambling isn't just a business move; it reflects a broader societal shift. Recent surveys show that over 70% of Americans have tried their luck in some form of gambling in the past year.
The dice are rolling, and they're rolling fast.
Investor's Playbook: Betting on the Big Players
As the landscape of consumer behavior shifts, investors need to be one step ahead. Here's a look at the major players in the sports betting arena:
Online Titans: DraftKings (DKNG) & FanDuel (PDYPF)
In 2023, a staggering 94% of all US sports betting volume came from online platforms. Leading the pack are DraftKings and FanDuel, holding 32% and 45% of the market share, respectively.
While other players like BetMGM, Ceasars Sportsbook, and Barstool Sportsbook are in the race, they're trailing behind. LikeFolio's data paints an intriguing picture: DraftKings and FanDuel are in a fierce battle for web traffic, hinting at potential new users.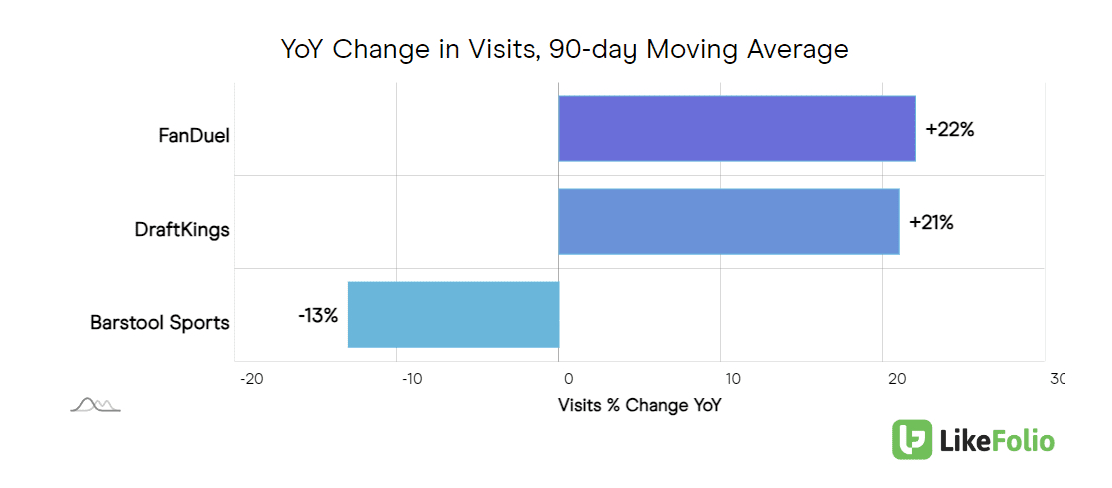 But with the highest customer satisfaction, DKNG might just be the dark horse investors are looking for.
Brick-and-Mortar Betting: PENN Entertainment (PENN) & Churchill Downs (CHDN)
While the online realm is buzzing, there's still a charm in the old-school, in-person betting experience. PENN Entertainment and Churchill Downs offer the best of both worlds. With a plethora of locations, from casinos to racetracks, they provide gamblers with a myriad of options. Their omnichannel approach sets them apart from pure online players like DKNG and PDYPF.
Even as online gaming surges, traditional gaming still holds the lion's share of revenue. And as more states roll the dice on sports betting, companies like PENN and CHDN are poised to benefit.
LikeFolio's happiness stats give Churchill Downs a slight edge over PENN, making it a potential favorite for investors.

Final Whistle
The U.S. is placing its bets on sports betting. As cultural perceptions evolve and markets mature, the companies mentioned above might just hit the jackpot. For our members, keep your eyes peeled. The next big wave in consumer demand might be closer than you think.