DocuSign (DOCU) is Riding the AI Wave…But Is It Enough?
In a world driven by data and technology, innovation is not a luxury but a necessity. DocuSign (DOCU) understands the task at hand, evidenced by its focus on AI-driven solutions. As we gear up for the next earnings report we're watching to see if DocuSign can sustain its growth trajectory. Let's dig in.
The AI Game-Changer
Last quarter, DocuSign's earnings and revenue exceeded market expectations, propelling its shares +12% higher after hours. A key factor behind this surge aside from performance was the company's AI initiatives.
DocuSign is harnessing generative AI to revolutionize agreement workflows. It has already implemented AI-driven solutions, with a notable feature being "Agreement Summarization," which uses AI, in collaboration with Microsoft's Azure OpenAI, to pinpoint and summarize crucial agreement components. Looking ahead, DocuSign plans to introduce AI-powered functionalities for searching agreement libraries, extracting agreement details, and suggesting language edits based on best practices. Its AI advancements are backed by a vast set of agreement data, proprietary models, and integrations with leading third-party models.
Strategic Diversification
Beyond AI, DocuSign is diversifying its portfolio by launching Web Forms across various sectors, including financial services and real estate. The company is also making strategic inroads into highly regulated markets like healthcare, aligning with industry standards through integrations with software platforms like Epic and Cerner.
The LikeFolio Data: A Reality Check
While the company's innovation and diversification strategies are promising, LikeFolio metrics paint a more nuanced picture. Web visits have declined by -11% YoY, suggesting a potential slowdown in expansion.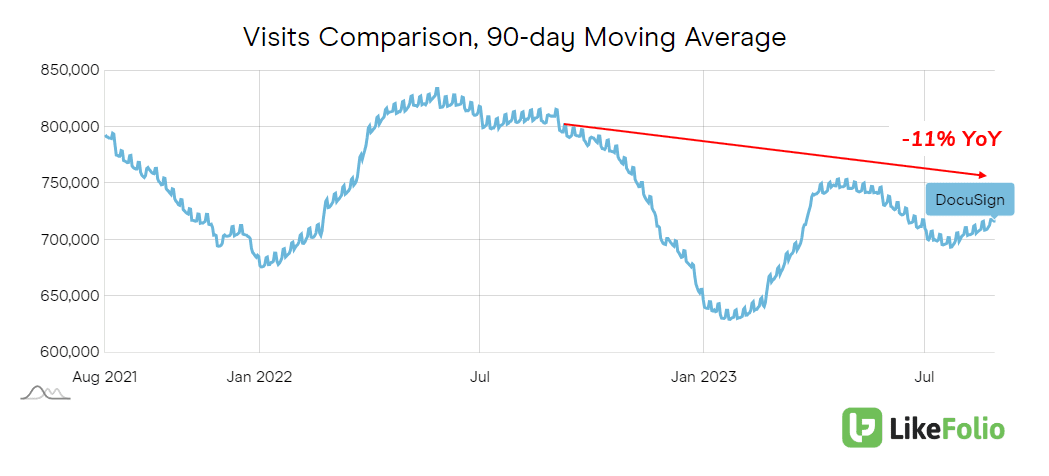 Additionally, DocuSign's consumer happiness levels are in the middle of the pack compared to other business efficiency providers.
Usage mentions have also remained relatively flat over the last quarter.
The Bottom Line
DocuSign's focus on AI and strategic expansion is impressive, but the data suggests that a significant turnaround may still be down the road. The company also faces stiff competition, notably from more-than-competent tech giant, Adobe (ADBE). While we're optimistic about DocuSign's long-term prospects, especially if it continues to innovate in AI, the short-term outlook appears less rosy. We'll be keeping a close eye on web traffic, consumer happiness, and usage mentions, alongside AI advancements. Members will be the first to know if and when we see any significant shifts.
In a landscape where data doesn't lie, DocuSign's future hinges on its ability to innovate and adapt. For now, the jury is still out.