Semiconductor Spotlight: While ARM Grabs Headlines, Another Giant Stirs
The semiconductor world is abuzz with the news of ARM's impending blockbuster IPO.
With investors' appetites whetted by Nvidia's staggering 200% rally this year, ARM's anticipated valuation of over $50 billion is making waves. Softbank's positioning of the British chip designer as a key player in the AI realm further fuels the excitement.
But while the limelight is firmly on ARM and its potential in the AI-driven future, we at LikeFolio are casting our gaze elsewhere. Beyond the dazzle of new IPOs and the established might of Nvidia and Intel, there's another player that's been quietly, yet steadily, making its mark. Enter AMD, the semiconductor underdog that's showing signs of a breakout.
AMD: The Underdog Poised for a Breakout in the Chip Arena
In the high-stakes world of semiconductor giants, AMD has long been the scrappy underdog, nipping at the heels of industry titans like Nvidia and Intel.
While Nvidia's stock has soared to stratospheric heights with a nearly +90% gain over the last six months, and Intel has enjoyed a robust +38% uptick, AMD has been the quiet contender, posting a more modest +17% rise in the same period.
It's like the tortoise in the classic fable, steadily making its way while the hares grab the headlines.
But as any seasoned investor knows, underdogs have their day, and AMD's story is shaping up to be a compelling one for those with a long-term vision.
AMD's Financial Rollercoaster
Last quarter, AMD defied expectations with impressive results, even amidst macroeconomic challenges. However, it wasn't all rosy. The first half of 2023 saw AMD's revenue dip by nearly -14% YoY, settling at $10.7 billion. The culprit? A slump in personal computer sales, a sector that significantly impacts AMD's ledger.
But every cloud has a silver lining. Projections for AMD's full-year revenue paint a brighter picture, hinting at a robust performance comeback in the latter half. Industry pundits forecast a 14% YoY revenue spike in Q4. A significant catalyst? AMD's much-anticipated foray into AI chips, slated for Q4 production. These aren't just any chips; they're designed to be the heartbeat of revolutionary applications, like ChatGPT.
LikeFolio's Data Reveals Momentum
A deep dive into LikeFolio's data reveals promising trends. While AMD might not be the most traveled site compared to stalwarts like Nvidia and Intel, it's catching up.
A +21% YoY surge in web visits is on par with Nvidia and leaves Intel traffic seriously trailing.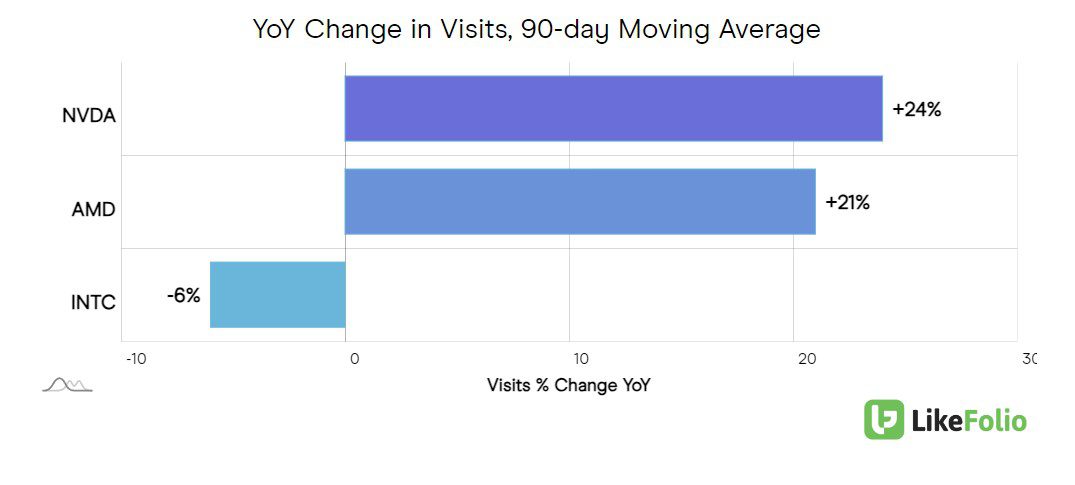 The best news for investors? This isn't a mere blip; just a quarter ago, AMD's traffic growth was a mere +12% YoY.
AMD is also making waves in the buzz arena. Mentions have shot up by +18% YoY, neck-and-neck with NVDA and once again leaving Intel in the dust.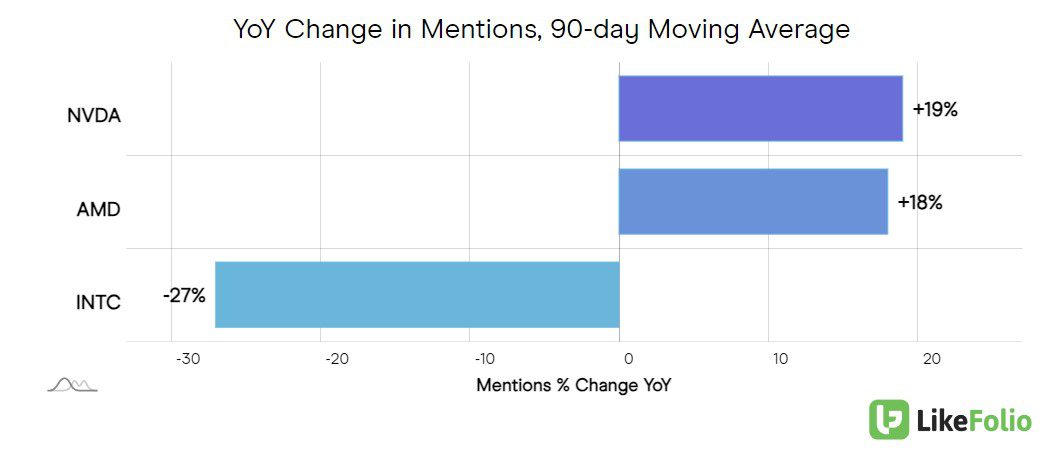 The driving force?
The consumer frenzy around AMD's Ryzen series, especially the newly minted 7000 CPUs. The predecessor, Ryzen 5,000 series, is flying off the shelves thanks to markdowns. That's a testament to the prowess of these processors.
As we gaze into the future, our radar is set on AMD's potential expansion in data centers and embedded sectors. Remember Nvidia's success story there?
Additionally, AMD's foray into AI is worth noting. As one of the few torchbearers crafting GPUs for AI, the company's leadership envisions AI as a pivotal growth propeller.
Bottom Line
While AMD grapples with immediate challenges like tepid PC sales and a gaming sector hitting the brakes, it's not all gloom. High consumer satisfaction and a noticeable uptick in web traffic are positive long-term indicators. Factor in the macro tailwinds of AI and big data, and AMD emerges as an increasingly attractive long-term investment.