Consumers are 'Plugged In' to Electric Vehicles
Gasoline prices appear to be heading south for the winter, albeit probably only temporarily.

Electric vehicle (EV) demand, on the other hand, is still headed for the North Pole.

This tells us there's far more to the EV growth story than cheaper energy.
Make no mistake. Consumers are still shaken by higher gas prices.

With $5 gas still fresh in our minds, visions of sugarplums aren't the only thing weighing on the American psyche this holiday season.

Filling the tank is still expensive and geopolitical risks are swirling, so pump price fear looks here to stay. LikeFolio's tracking of consumer Gas Price Concerns is up +176% YoY.
But there must be other things driving the power surge in EVs.

The growth in social media chatter around purchasing an EV is miles ahead of other vehicle types. Even as dealer inventories improve, demand for traditional cars and trucks isn't budging much.

Yes, this has much to do with the weakened macro picture. Squeezing another year out of the ole' clunker makes sense in an inflationary setting.

Advantage: EVs.

Since EV buyers tend to have higher household incomes, EV makers are relatively insulated from sticker shock.

Then why the big gap between EV and Hybrid Vehicle demand?

The appeal of the EV goes beyond fuel economy, vehicle cost, and tax credits.

Modern consumers care about the environment perhaps more than ever before. Much of the EV chatter we are seeing is about the emission benefits of EVs over conventional vehicles.

National energy security is a hot-button topic too. Especially after the pandemic and Ukraine exposed our vulnerability to oil imports.

Another factor driving adoption is the rapid buildout of EV infrastructure. Public charging stations are popping up all over the country.

There are roughly 64,000 alternative fuel stations across the U.S. and Canada—56% more than there were at the end of 2021.

Heck, in some cities you can charge your car while waiting for your Starbucks latte.

We've long known this is the future of transportation, but it sure is arriving fast!

Our proprietary consumer data provides users a look under the hood to see which EV manufacturers are winning.

The answer may come as a surprise.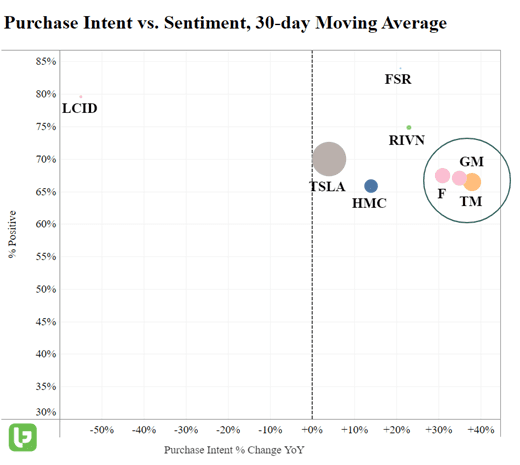 The LikeFolio outlier grid reveals that traditional automakers are gaining ground on Tesla and other EV pure plays.
On a 90-day average, Purchase Intent (PI) Mentions at Ford, GM, and Toyota are up significantly more while consumer happiness is roughly on par.
Yes, gas guzzlers still account for the majority of sales at these companies – but EVs are quickly becoming a bigger part of the mix.
Here's why traditional automakers could be huge EV winners:
Ford, GM, and Toyota are full speed ahead on adding EVs to their lineup. Factories are being built and modified to accommodate EV production. Electric versions of familiar car and truck brands are rolling off the assembly line. Pre-orders are growing. (Frankly, they have no choice…that's where the market is headed. But they're doing surprisingly well!)
Legacy automakers offer familiarity. The many upstarts entering the EV fray lack one key auto part—brand reputation. They must build that from scratch while Ford, GM, and Toyota have the advantage of decades-old trust.
The Fords and GMs of the world represent value—or at least the perception thereof. In recognition of the industry giants' scale, most auto industry newcomers are going after the luxury EV category. Especially in this environment, affordability matters.
There's one more common denominator among the trio of outperformers.

EVs are in the (growth) driver's seat.

GM's Chevy Bolt is Finally Taking Off

At GM, management's strategy is to "rapidly grow EV volumes by winning in high-volume segments". Early W's in the mass market are already being secured.

GM grabbed an 8% share of the U.S. EV market in Q3 led by record sales of the Chevy Bolt EV and EUV. Social media confirms that customers are digging the car's range, tech, and value.

In 2023, Bolt EV/EUV production is slated to ramp 59% to 70,000 units. Based on the strength in Chevy Bolt mentions, when they build it, consumers will come. Chevy Bolt PI Mentions are up +187% YoY.
Management's target to make 1 million EVs by 2025 seems doable given GM's emerging value proposition. After launching the Chevy Equinox EV, GMC Sierra EV, and Cadillac Celestiq in just the last few weeks, the company seems to be well on its way.

Ford's Classic Favorites are now Electrified

Ford has made its EV ambitions clear too. It expects that by 2030 as much as 50% of production will be fully electric, in route to a fully-electric transition. When you invest $11.4 billion to build a "mega campus" in Tennessee and a two-pack of battery plants in Kentucky, you're definitely going on all-in!

So far only the Mustang Mach-E and F-150 Lightning have been introduced (along with the E-Transit delivery van) but the reception has been excellent.

On a long-term basis, consumer buzz around the new F-150 Lightning has more than doubled YoY. The Mach-E has been around longer, but demand is pointing up there as well.
Year-to-date through September 30th, Ford ranked 2nd only to Tesla in U.S. retail EV sales. Like GM, consumers are embracing its initial offerings mainly because they are 'recognizable value'.

The commercial EV business is no slouch either. E-Transit controls 90% of the domestic full-size EV van market.

Ford is on track to reach a global EV capacity of 600K units by the end of next year.

Toyota is Executing a Diverse Strategy (Hybrid, Fuel Cell, AND Electric)

Japan's auto giant is pouncing on the accelerating global EV shift by ramping up production of electric and fuel-cell vehicles. Electrified vehicle sales accounted for 28% of overall sales in FY22 and are expected to be 31% of sales in FY23. The company projects this figure will rise to 40% by 2025 and 70% by 2030.

LikeFolio data shows that Toyota is asserting itself as a preferred EV brand among U.S. and overseas car buyers.

Leading the 'charge' are the Toyota Sequoia and Toyota Sienna which consumers are talking about buying 54% and 27% more frequently YoY, respectively. And we can't forget about the O.G.—Prius demand is up slightly YoY.

Toyota is progressing rapidly towards its goal of having 30 EVs in the lineup by the end of the decade. Its fleet already contains more than a dozen electrified vehicles including hybrids and fuel cell vehicles with more on the way.

The 2023 Corolla Crown sedan (below) and the 2023 Corolla Cross Hybrid crossover hit the roads next year.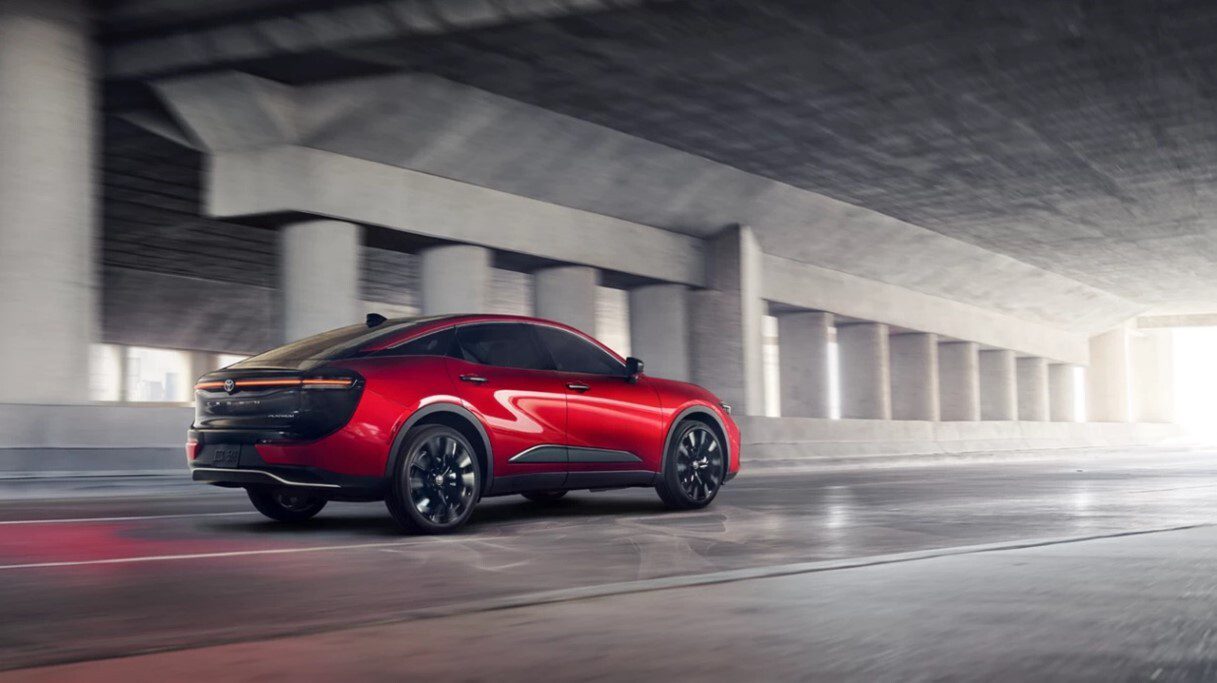 Of course, there are other ways for investors to ride EV growth besides the automakers themselves.
Motorcycles are going electric too.
Harley Davidson spinoff LiveWire (LVWR) recently started trading on the NYSE and has the wind at its back. Comprehensive demand for all-electric motorcycles is up +126% YoY.
Then there are the chipmakers:
Intel's Mobileye (MBLY) just listed on the Nasdaq and is developing life-saving camera technology for driver-assisted and self-driving EVs. Mobileye buzz is up +55% YoY.
Nvidia (NVDA) has teamed up several EV challengers on its AI-powered Nvidia Drive platform including China's Nio, XPeng, and Li Auto.
Advanced Micro Devices (AMD) recently joined forces with Chinese mobility tech group ECARX to create a digital 'cockpit' for EVs.
With this long-term growth story just revving up, more opportunities will inevitably arise. Members will be the first to know.