How Investors Can Benefit from…Taylor Swift?
If you haven't heard about Taylor Swift's most recent album drop, 'Midnights', I'm going to assume you're living under a rock.

"But Andy, she's not a real artist." (Don't say that too loud, her army might hear you!)

Listen, it's hard to argue with cold hard facts. And the truth is, the Millennial pop star just shattered Billboard records.

She's the first artist ever…hear me, EVER…to hold all 10 top spots on the Billboard Hot 100.
The top hit, "Anti-Hero" garnered more than 59 million streams in the week following the album drop and the album as a whole is breaking streaming records.

LikeFolio tracked this surge in streaming activity in real-time. You can see the spike in artist engagement on the chart below:
We listened – and wondered – Where are consumers listening?

How Investors can benefit from Taylor Swift's Surging Popularity

An event of this scale serves as a major bellwether for the industry in which it operates.

In this case, music streaming. A snapshot during a major cultural event can be a significant indicator of future demand.

Because the platforms fans turn to when they want to CONSUME this hot content (i.e. spend money) are doing something right.

Our research team analyzed the top streaming sites to quantify consumer behavior and crown a winner. We sampled ~30,000 social media mentions from Oct. 21 ('Midnights' album drop) to present and noted WHERE consumers were listening.

The results are pretty clear…
This caught our attention.

More consumers turn to Spotify than any other music streaming platform to consume fresh audio content – but Spotify shares are trading at the lowest levels in company history.

Is opportunity brewing?

Here's the Bullish case for Spotify…and where to watch for red flags.

Spotify is Building an Audio Empire

Spotify is the streaming name to beat. Last year, it boasted the largest market share vs. streaming competitors. LikeFolio's volume metrics confirm its market dominance.

And it's still growing…
Its premium and ad-supported user base growth exceeded expectations in the third quarter.

Much of this growth is driven by the company's expanding offerings…namely Podcasts and now Audiobooks.

Spotify's podcasting business helped to drive advertising revenue by +19% YoY (a bit below expectations but still impressive considering the widespread pullback in advertising spend).

Spotify also published more than 300,000 audiobook titles to its platform on its quest to be more than the place consumers go to stream the newest Taylor Swift album.

The silver lining for both of these growth areas?

Gross margins in podcasting and audiobooks is significantly higher than margins in the music business. This expansion is crucial for long-term profitability.

Speaking of profitability…

Spotify's Investments in its Own Growth are Limiting Profitability…for Now

Wider-than-expected losses have been Spotify's Achilles heel.

It's what sent shares tumbling after its Q3 report…and largely why SPOT shares are trading at the lowest levels in company history.

Some investors have mocked the company for its operating losses.

But Spotify insists its long-term investments in the user experience will come to fruition in 2023.

On its last earnings call, the company noted: "our Q3 results clearly show that our investments in the product and experience have resulted in strong user growth, retention and increased engagement, but they've also been a drag on near-term margins. Just to remind everyone, this is all consistent with the strategic decisions we communicated in early 2021 and again at Investor Day. So as we've said, we expect this drag on margins to start to reverse in 2023."

Some of these investments beyond its foray into podcasting and audiobook content include acquisitions like Heardle, a viral music trivia game, and Kinzen a specialist in platform safety.

Spotify has simple but straightforward standards when evaluating moves like this. All investments must 1) improve margins over time or 2) strengthen the platform's value proposition to its users.

So how can we track if these endeavors are successful?

When it comes to the platform's value prop, we can track consumer happiness levels. So far, it looks like Spotify is successfully improving the user experience.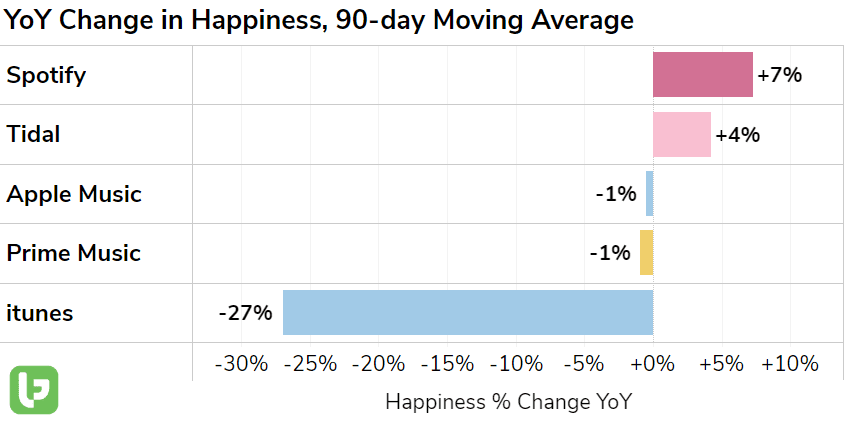 Spotify Must Remain Vigilant for Disruption
But...if Spotify wants to succeed in its plans for profitability and audio domination, it needs to stay on its toes.
TikTok is proving it may have an edge for new artists. Its freaky-targeted algorithm is helping up-and-coming artists land on the for you page of listeners who are most likely to love it…an enormous draw for the creative community.
Even Amazon is going on the offense, offering a Pandora-like service (shuffle mode) under its music platform free for Prime subscribers.
Bottom Line: the market is counting Spotify out. But there may be more to the story.
We'll be monitoring all sectors examined in this report in real-time and provide updates – and opportunities – as we spot them.
And thank Queen Taylor for the inspiration in the meantime.