Is JPMorgan CEO Dimon Right?
With inflation still causing issues, we've noticed a recent uptick in a worrying trend over the last few weeks. 

Gas price rises, inflationary pressure, and supply chain bottlenecks are hitting consumers…


As we previously pointed out, mentions of gas price concerns continue to climb, now pacing at an enormous +231% QoQ and +575% YoY.


But there is a more significant concern. 

Consumer mentions of falling behind on or missing payments for key credit areas including home loans, car loans, credit card bills, utilities, and rent are rising.

At the moment, they are trending at +33% QoQ and +138% YoY. 

But what's more concerning is they are gaining steam, consistently climbing since early 2021, and now hitting their highest point since the pandemic-related spike. 

This week, JPMorgan CEO Jamie Dimon warned of a potential economic "hurricane," but added that U.S. consumers still have around six to nine months of spending power. 

With current trends suggesting Dimon could be correct, here's what we will be watching over the coming months: 

Maxing Out Credit Cards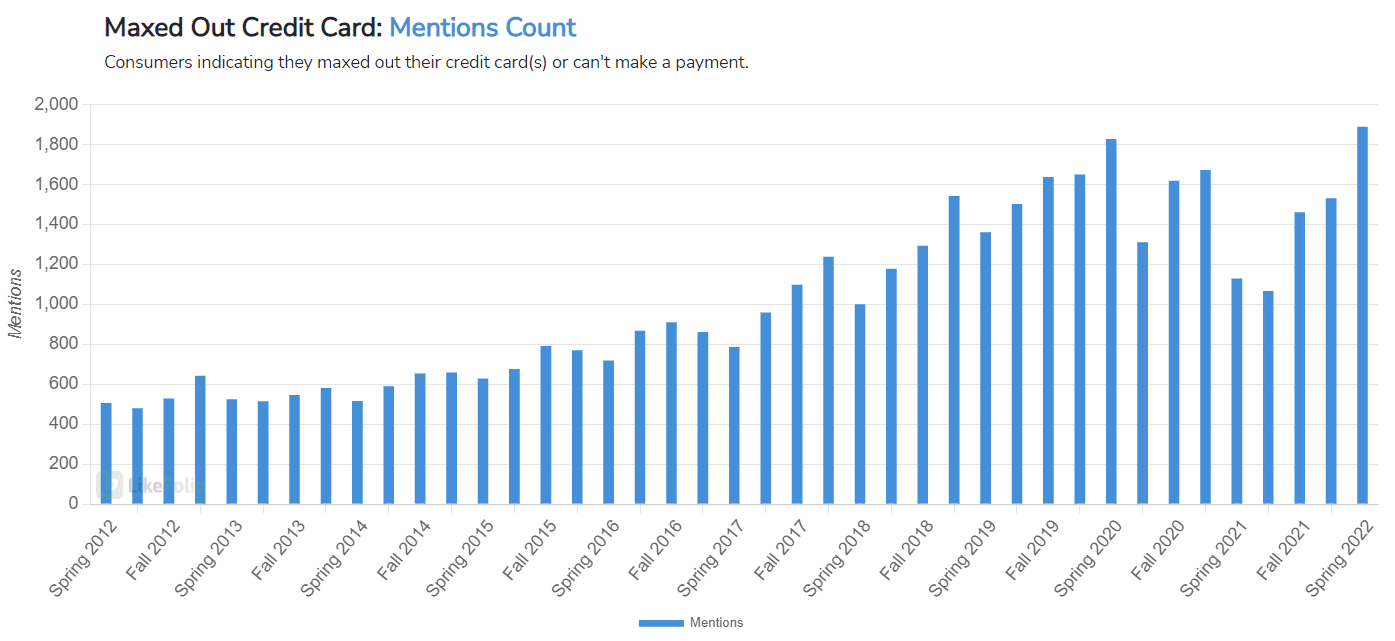 Consumers indicating they maxed out their credit card(s) or can't make a payment is an important trend to watch in the current climate. 

It is already on track to close at all-time highs, trending +67% YoY. 

An interesting point to note here is that this trend was rising until the pandemic hit, and is now climbing once again. 

According to nber.org, 30% of people used stimulus checks to pay down debt during the pandemic, but now, there is no new stimulus in sight. 

New Credit Cards

Mentions of new credit cards is another metric that is climbing and important to keep an eye on, currently pacing +9% YoY. 

Consumers are signing up for new credit cards to keep up with rising prices.

Meanwhile, consumer credit card debt is rising.

Bargain Hunters
Deal discovery, or mentions of actively searching for savings/discounts while shopping, is another trend we are watching.
It too is at all-time highs, trending +17% QoQ and +50% YoY. In addition, frugality mentions are trending +15% YoY.
If Dimon is correct and purchasing power declines over the next few months, expect this rise to continue.
Of course, we can't rule out the potential for a surprise turnaround but, as said by one of our analysts, it looks like "at some point, they're gonna have to pay the piper."