$ONON Next Growth Phase
As ON Running gears up to report its earnings on Tuesday, the athletic footwear industry is watching closely. ON, known for its cloud-like running shoes, has come a long way from its Swiss origins, where three friends turned a revolutionary idea into a global brand.
The company's story began with a simple yet ambitious goal: to revolutionize the sensation of running. It's a narrative that has not only propelled ON to the forefront of the running community but has also set the stage for its international expansion and direct-to-consumer (DTC) success.
Ahead of the earnings call, LikeFolio's Earnings Score strikes an optimistic tone, with a bullish +29 rating driven by robust demand growth and elevated web traffic.
Despite a slight deceleration in growth rates, with web visits up +55% year-over-year (YoY) compared to last quarter's +74% YoY, ON's story is one of resilience and strategic agility.
Here's why ON's narrative continues to inspire confidence among investors and consumers alike:
International Expansion Opportunities
ON has effectively expanded its market reach internationally, with significant business growth in the UK, Middle East, China, Japan, and Latin America. This expansion accounts for a quarter of ON's total business. The company's strategy has involved tailoring its marketing efforts to suit the unique demands and consumer preferences of each region. This approach has proven successful, as evidenced by the growth figures in these areas, indicating a strong potential for further international market penetration.
Direct-to-Consumer (DTC) Revenue Growth
ON's focus on direct-to-consumer sales has resulted in a 54.7% revenue increase, reflecting a trend of consumers preferring direct engagement with the brand. The company's investment in new flagship stores and the development of a user-friendly online shopping experience have contributed to this sales boost. These efforts have enhanced ON's direct relationship with its customers, supporting the brand's growth in the DTC sector.
LikeFolio web traffic data falls in line with this revenue projection: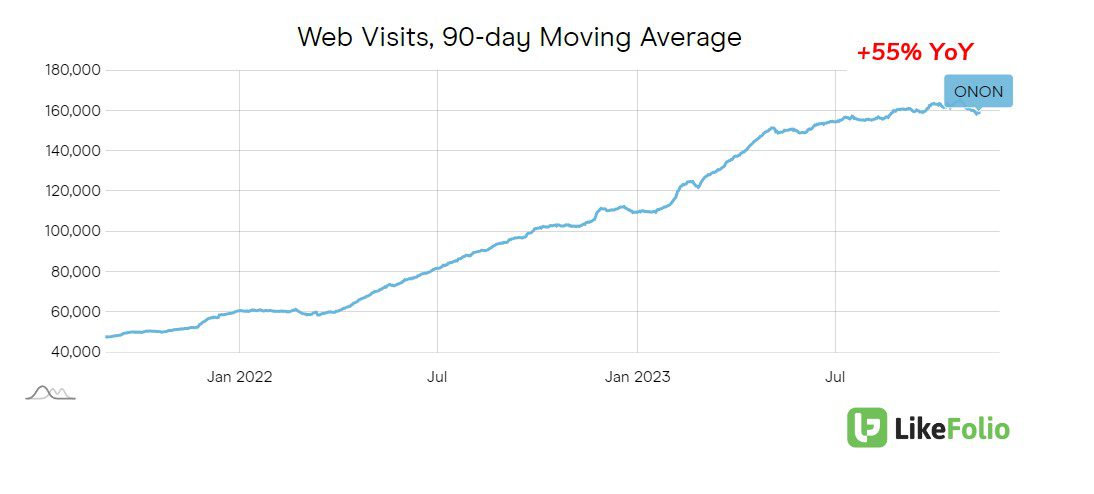 Expanding Premium Product Pipeline
ON has expanded its product range to include athleisure apparel, with offerings such as high-end jackets that exceed $400 in price.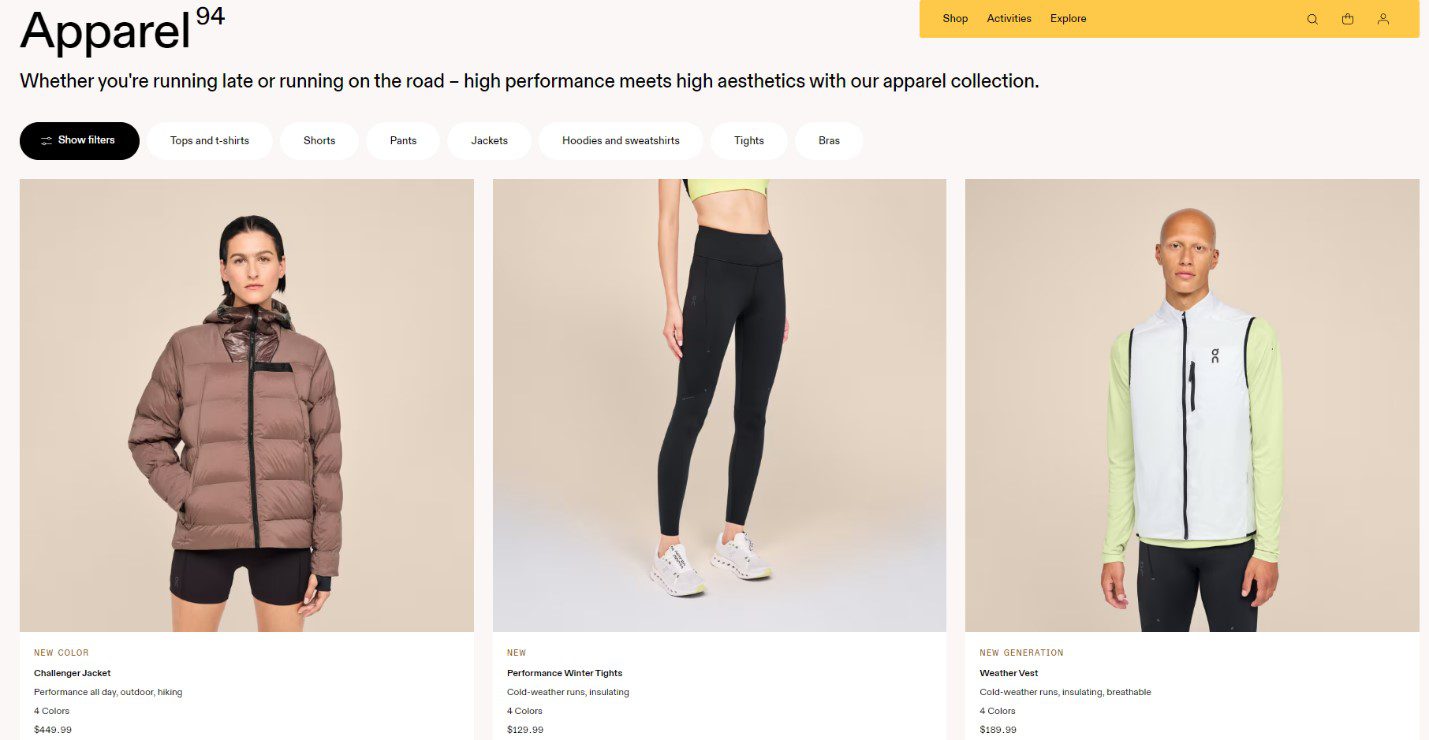 This move aligns with the brand's strategy to serve consumers looking for high-quality and luxury items. Data from the last earnings call indicates that customers who purchase ON footwear tend to make repeat purchases, including the brand's premium apparel, suggesting a solid customer retention rate and growing brand allegiance.
Bottom Line
Despite a slowdown in English-speaking markets, as evidenced by a dip in Google Trends queries for On Cloud shoes in the U.S., the street has anticipated this shift.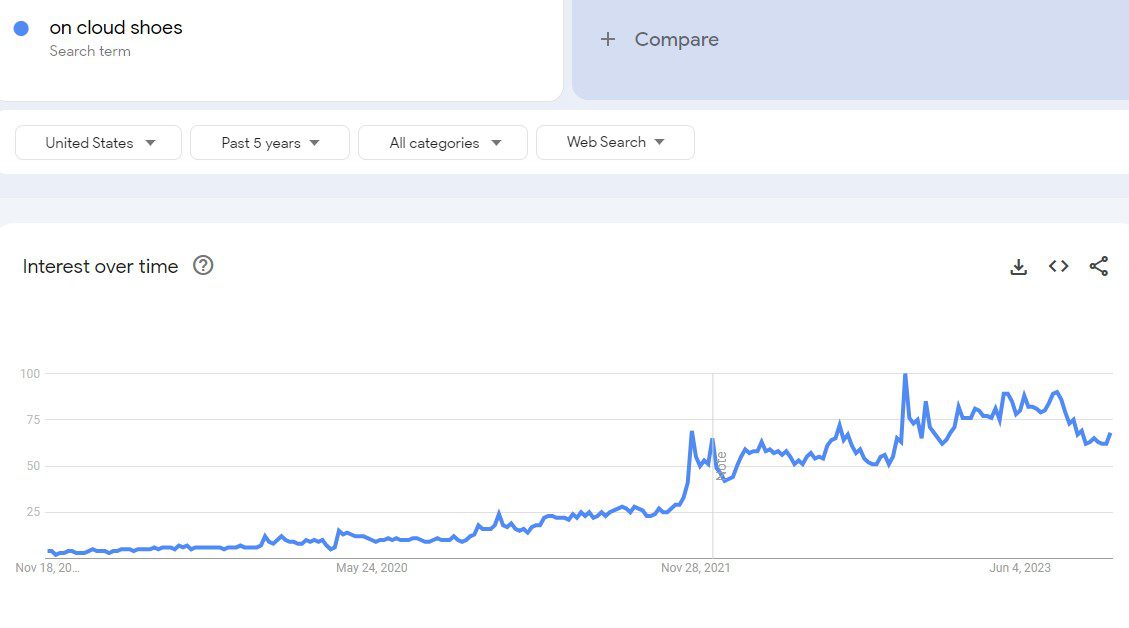 Shares of ONON have seen a 27% decline from their August peak.
However, the brand's enduring appeal and strategic moves position it well for the upcoming holiday season.
With a story that continues to unfold across borders, a direct line to consumers' hearts and wallets, and a product line that extends beyond the track, we think ON's run is far from over.