A Critical Moment for Target $TGT
As Target Corporation (TGT) prepares to report its earnings on Wednesday, November 15, before the market opens, the retail giant finds itself at a pivotal juncture. Once celebrated as a retail darling, Target's recent struggles have been a stark reminder of the volatile nature of the retail industry.
The Fall from Grace
Target's challenges began with a significant increase in organized retail crime in Q1, leading to an additional $500 million in stolen and lost merchandise compared to the previous year. This issue of inventory shrinkage not only impacted product availability but also raised concerns about store safety.
The company's woes were compounded in Q2 when it faced backlash over its pride month merchandise, contributing to a -5.4% year-over-year drop in comparable sales. The issue of shrinkage continued to plague the company, further dampening its performance.
Amid these challenges, TGT shares have slid more than 30% over the last two quarters, leading investors to question whether Target can right its ship.
Signs of Improvement and Lingering Concerns
LikeFolio's data offers a mixed picture.
On the positive side, Target's brand happiness has normalized, showing an 8% year-over-year increase to 68% positive sentiment, once again outpacing its retail peer Walmart (WMT).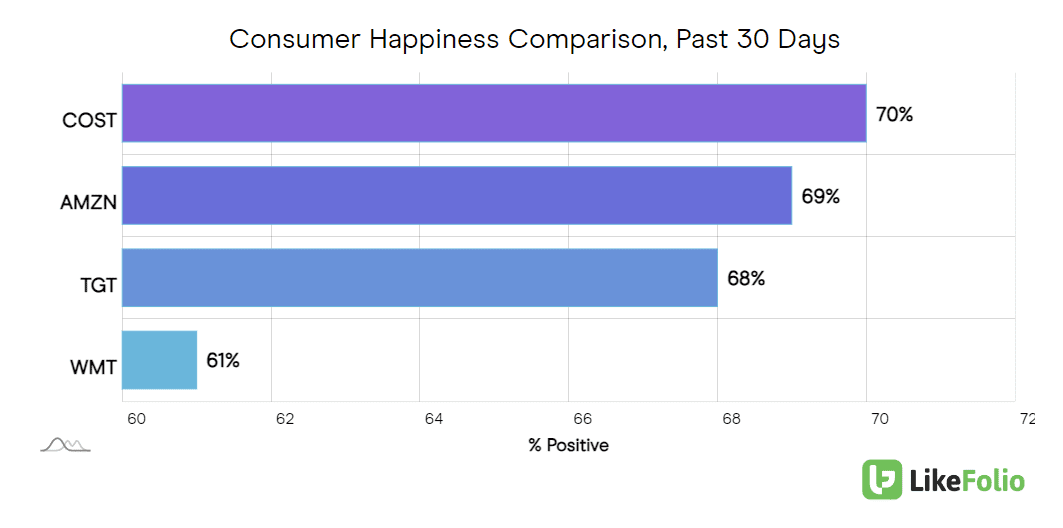 However, Target continues to lag behind in eCommerce activity, a critical area in today's retail landscape.
Moreover, the brand has lost some of its appeal, with mention volume remaining 40% lower year-over-year.

This decline in engagement and visibility could be a cause for lasting concern.
The Road Ahead
As Target heads into its earnings report, the company is expected to announce a 4.8% drop in sales, in stark contrast to Walmart's anticipated 4.4% rise. Target's reliance on sales of clothing, home goods, toys, and electronics might be partially to blame for this projected decline, especially compared to Walmart's focus on staples.
In response to these challenges, Target is doubling down on diversifying its product offerings. The company is introducing new merchandise, including collaborations with Ulta Beauty, Kendra Scott jewelry, and its own kitchenware line, Figmint. This strategy aims to broaden Target's appeal and offset potential declines in other areas.
Investor Outlook
Despite these efforts, LikeFolio's data suggests a cautious approach, with a bearish signal on Target. But we do acknowledge the bar is low. A not great but not terrible report may send shares higher, so it's important to remain risk defined.