Proof That Block's (SQ) Plan is Working
We have had our eye on the digital payments space for a long-time.

And Block has been one of our top picks for years.

We are seeing a rising number of consumers and businesses flocking to Block's services, in particular, Square and Cash App.

Cash App was a first mover in the digital finance ecosystem mindset and its growth is evident, with Purchase Intent Mentions for the app trending +96% YoY.
According to Piper Sandler analyst Christopher Donat, downloads of Cash App are "strong," while the company has built an "ecosystem of ecosystems big enough to be several stand-alone companies," says JPMorgan analyst Tien-Tsin Huang.

But as Huang hinted, it's not just Cash App that is the driver of Block's business.

Square is working with Apple to enable Tap to Pay on iPhone, providing another boost to the company.

Furthermore, Block's integration of Afterpay into Square's online and in-person commerce is another exciting update, boosting transaction sizes in the US and Australia.

Overall, Block is in a good spot – which contrasts with the -48% slide in its stock price this year. Here are 3 reasons we're remaining bullish on SQ:

1. Digital Wallet Adoption is Still Strong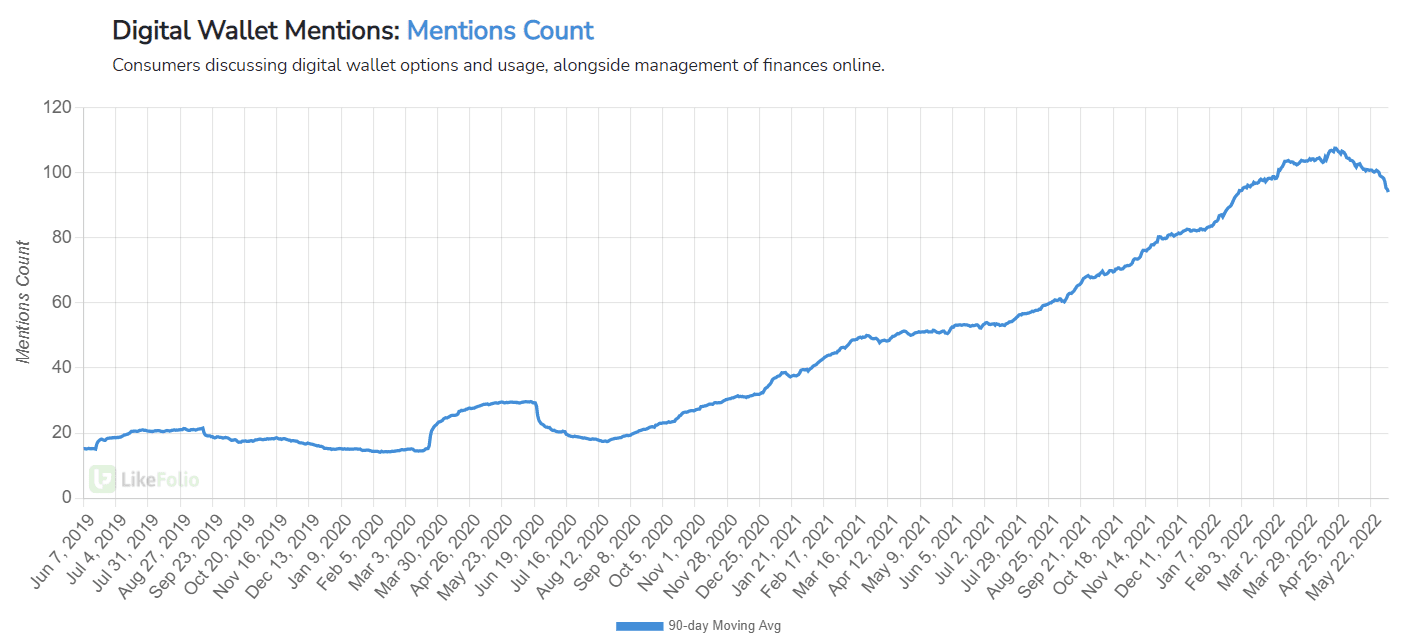 Demand for digital wallets remains significantly higher after surging in 2021.

Consumers discussing digital wallet options and usage, alongside management of finances online is pacing +94% YoY in the current period, an all-time high, and the 7th consecutive quarterly high established.

While the pandemic fueled the initial consumer adoption of digital wallets, there has been little sign of a significant drop-off, providing a strong tailwind for Block and its ecosystem.

2. Square is Helping to Drive Demand
Purchase Intent Mentions for Block are gaining, trending +10% QoQ and +45% YoY.

These are mentions from businesses (and consumers) utilizing Square services for retail transactions.

After a significant move higher, there was a dip in demand during 2021 (when more consumers were shopping online).

But now that brick-and-mortar shopping is back, consumers have returned to the Block bandwagon.

3. Block's Afterpay Integration is roping in Buy Now, Pay Later users
Buy Now, Pay Later is booming, with mentions of buying products on credit and paying for them later pacing +87% YoY.
Demand for Block products and services have been boosted by the company's integration of Afterpay, giving it the ability to offer Square merchants a Buy Now, Pay Later option.
In May, Block said it observed a "180% increase in new consumers leveraging Afterpay through Square sellers between February and March 2022."
In addition, retail businesses offering Afterpay's BNPL service saw a lift in overall online sales.
Translation – the concept of ecosystem adoption is working. Once users begin using one service provided by Block, they are more likely to adopt another.
Its integration of Afterpay, and consumer demand for BNPL and digital wallets help us maintain our bullish view. With the stock down significantly this year, it provides an even more attractive entry point.