Real Estate Tech Stocks Shrug Off Weak Housing Market…
The U.S. housing market is on shaky ground.
Last week, the average 30-year fixed mortgage rate climbed to 6.81%. If Fed rate hikes continue, a return to peak summer '22 levels may lie ahead.
As mortgage rates rise, so do home prices. The median sales price for an existing home is approaching $400,000 offering prospective homebuyers little relief.
No surprise then, that mortgage applications and sales volumes are way down.
Combine waning home affordability with the digital ad spending slowdown and tech-driven real estate service players are hurting, right?
Yes and No.
Elevated home inventories plus soft demand are no doubt a disastrous recipe for companies like Zillow, Redfin, and Opendoor. Especially with large and small players alike crowding the space.
A supply-demand imbalance and increased consumer choices are reflected in recent real estate website activity. Fewer visitors are knocking on the door. And those that are, seem to be just kicking the tires.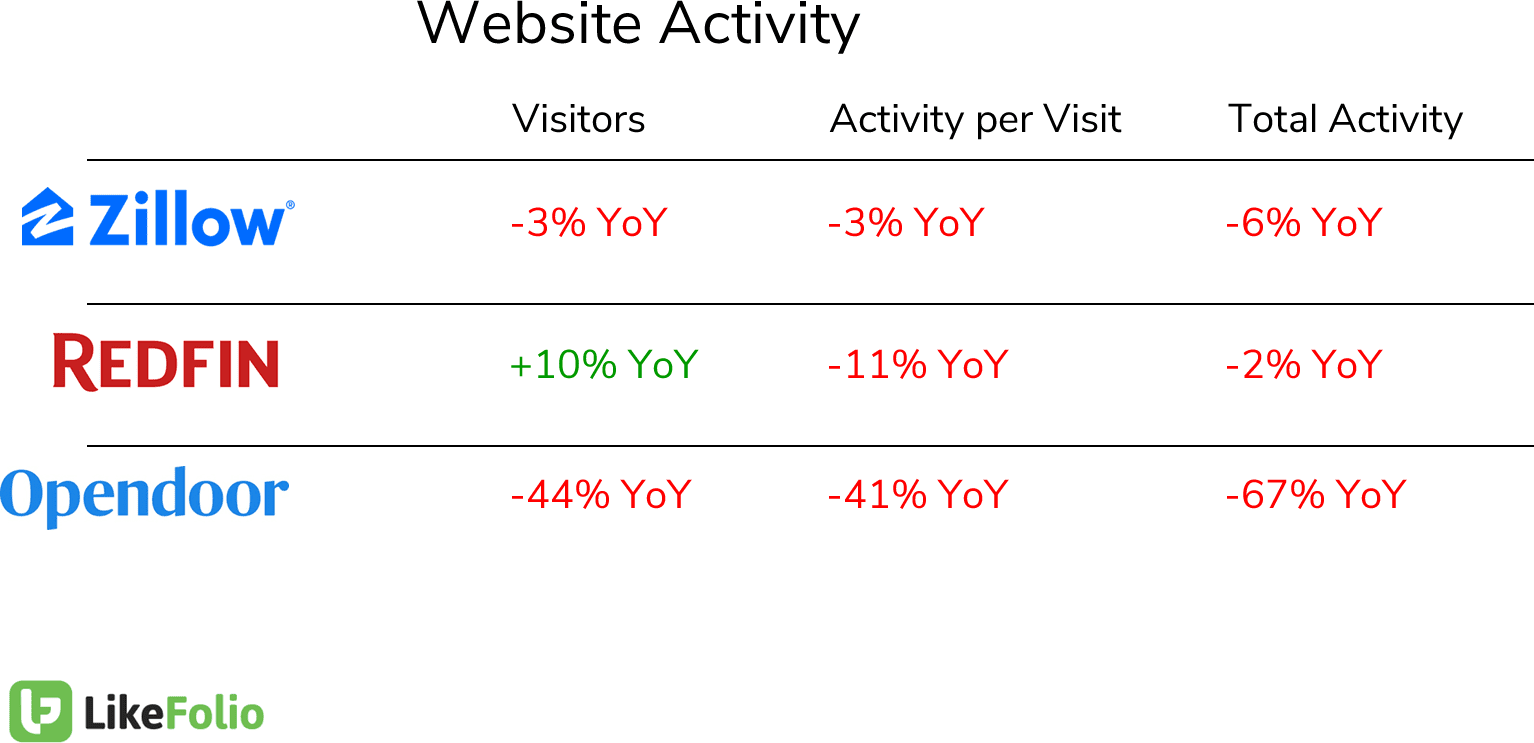 With homebuyers on the sidelines and real estate agents purchasing fewer products and services, financial results have been poor for real estate techies.
Take Zillow. 1Q23 revenue fell -13% YoY led by weakness in the core residential business. Double whammy when you also operate a small mortgage business. With higher operating costs thrown into the mix, Zillow has posted a net loss in six straight quarters.
The good news — the secular trend is still on. Instead of getting real estate information from local newspapers and real estate offices, consumers are shifting to websites and mobile phones. At the moment, though, they're not exactly buzzing about Zillow, Redfin, and Opendoor.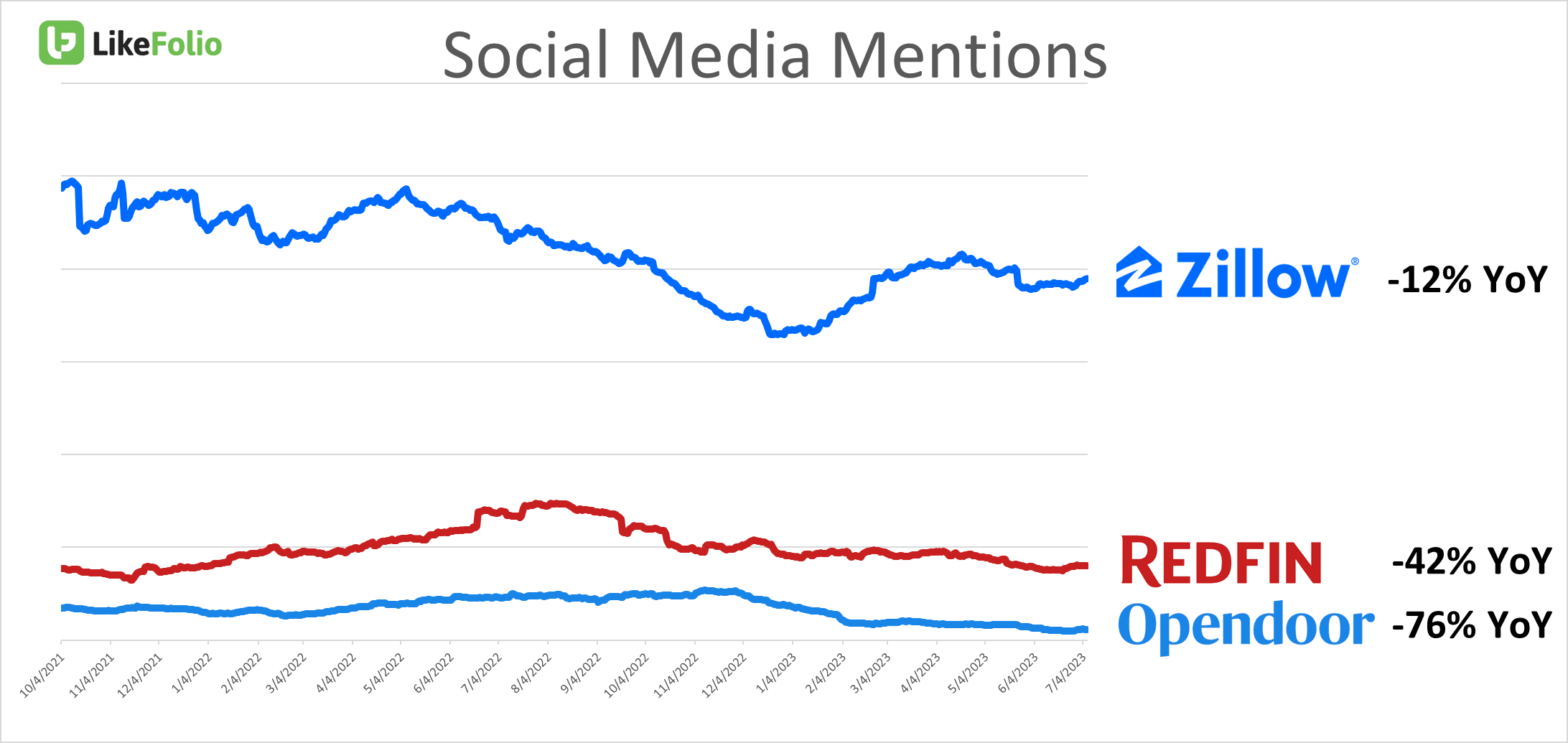 Despite the weak housing market and depressed online activity, real estate tech stocks have climbed well off their respective 4Q22 lows.
ZG is up 78%
RDFN is up 292%
OPEN is up 317%
Better times are probably ahead for these companies, but is the market getting ahead of itself?
Pending the mortgage rate path, 2024 is supposed to be a recovery year for the group. But financial results are expected to remain well below 2021 levels. So, there must be more to the story.
Industry trailblazer ZG is boldly rolling out new innovations to put itself in a stronger position on the other side of the housing downturn.
In January 2023, the company rolled out an AI-powered natural language search tool, the first of its kind in real estate. Home shoppers can enter a specific phrase about what they are seeking instead of having to sift through multiple filters.
Last month, it launched an enhanced software package called Appointment Center by Showtime+. Sounds like another streaming TV product, but it's meant to eliminate the monotony of appointment setting for real estate agents. Along with data, reporting tools, and 24/7 access to live appointment specialists, customers may find the $15/month investment well worth it.
We think these have much to do with ZG's relative outperformance in website traffic and social media mentions.
In addition, ZG is benefiting from its Zillow Rentals business, which grew revenue 21% in Q1. Consumers awaiting cooler home prices, may be turning to apartment rentals.
'Real' Bad Q2 Earnings Reports?
Within the next few weeks, real estate tech players will report what are expected to be more dismal results.
ZG is forecast to record 53% lower sales and 61% lower revenue — but may warrant the most optimism because:
Website and social media activity is holding up relatively well
It has beat consensus EPS estimates in each of the last 6 quarters (including a big 1Q23 beat)
A growing Zillow Rentals business could be a difference maker
With this said, much of ZG's 2023 gains came in the weeks that followed its AI search launch. Is the stock rebounding simply because it's been deemed an AI winner? Or does the market truly see a return to sustainable profit growth?
Bottom Line: The real estate tech services industry is facing serious headwinds including high mortgage rates and home prices. In a weak group, Zillow appears to be the strongest and Opendoor the weakest. The macro landscape needs much improvement for these companies to do well, although you wouldn't know it by their recent stock gains.