Surprise Spring Break Winners $AEO $TPR $VSCO
It's Fun Friday! And for many of you, Spring Break starts now.
I personally can't wait to kick back by the pool with a cold bevy in my hand and a direct stream of sunshine.
Here in Louisville, the airport is bracing for a record-breaking week of travel.
Louisville is in good company – 2023 Spring Break travel levels are expected to exceed those recorded in 2019. We're talking 2.6 million passengers, a point higher vs. pre-pandemic days.
It's clear travelers are prioritizing travel. We highlighted explosive cruise demand just yesterday.
But traveling has some ripple effects. Consumers need clothes to wear, purses to carry, and beauty products to look and feel their best.
Three companies in the LikeFolio universe triggered our high-volume detector, "spiky" over the last week.
Mentions show that each of these names may be getting an extra boost that the market may not see comping.
Here's what caught our eye:
American Eagle Outfitters (AEO): Sentiment Boost
AEO positive sentiment popped this week, +5% higher on a YoY basis.
What were consumers raving about?
American Eagle launched its first beauty collab with E.L.F. geared toward its young consumer base.
American Eagle's top product mention on social media is demin, so this creative collab certainly taps in to what consumers love most about the retailer.
Its on-trend denim style – most recently its strigid mom jeans – are keeping consumers engaged.
However, the happiness metric tends to be the most forward-looking indicator of future demand, so we'll be monitoring for a Purchase Intent boost.
Victoria's Secret (VSCO): Sentiment boost.
VSCO consumer happiness levels also popped this week, +5% higher on a YoY basis.
The company timed a digital sale just as Spring Break travel takes off.
Web traffic is currently registering +13% higher on a YoY basis, proving this event is gaining traction among consumers.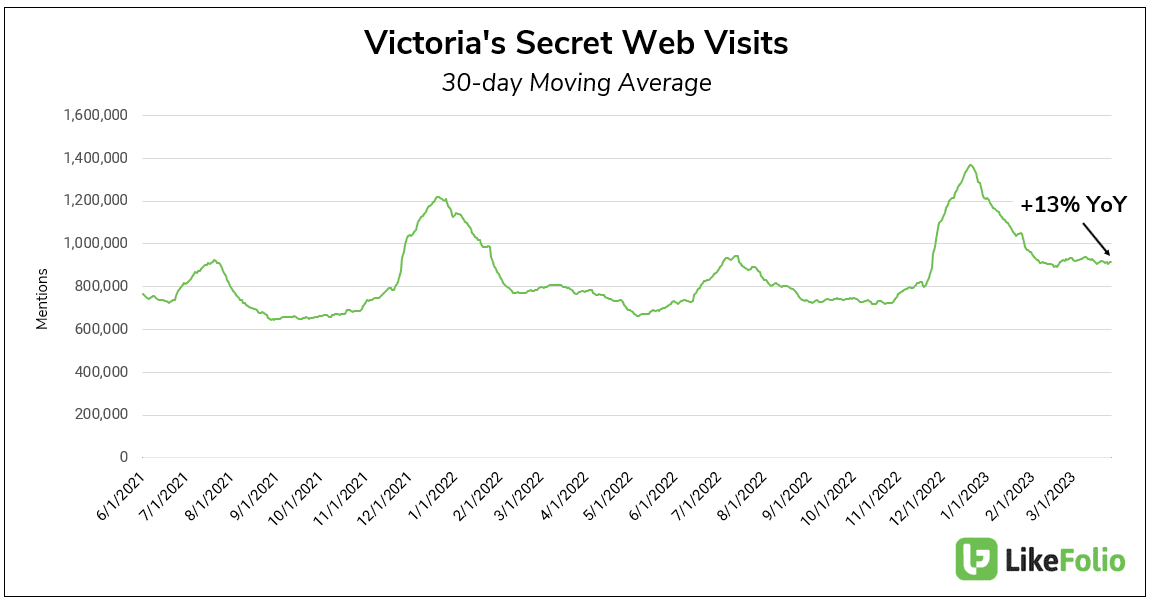 The combo of increased digital traffic alongside rising consumer happiness is a positive sign for the brand who is undergoing a major rebirth.
Tapestry (TPR): Buzz Boost
Tapestry, the parent company of well-known luxury brands Kate Spade and Coach, is receiving the most significant boost vs. other retail peers this week.
This makes sense – of the three names triggering spiky, TPR is the only luxury retailer of the bunch.
And as we know, High-End apparel demand is proving extremely resilient among inflationary economic conditions.

Tapestry's recent buzz bump is driven by Coach's alignment with Doechii, a rising star in the hip-hop world.
Along with engaging a young, hip audience via influencers, Coach is also rolling out nostalgic items for millennial consumers.
Key Takeaways: $TPR $AEO $VSCO
Shares of each retailer have gained ground over the last 6 months.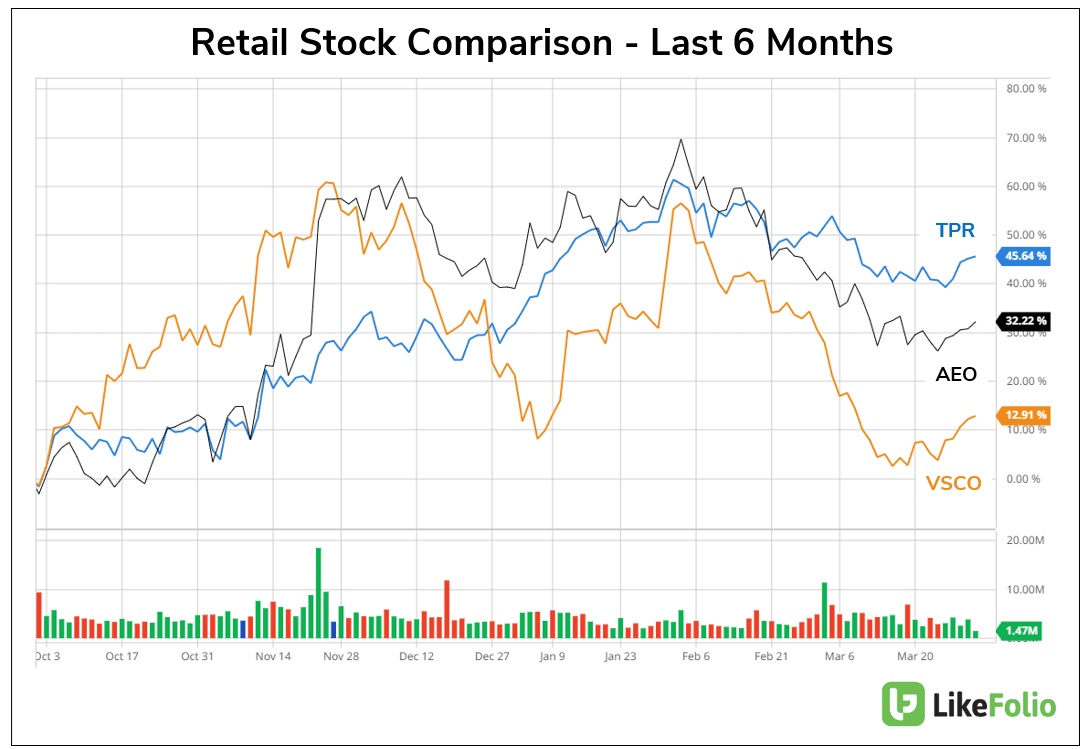 Data supports continued outperformance from TPR thanks to its high-end status and positive consumer traction.
We're also watching for a continued spark for AEO and VSCO – both brands could present a longer-term opportunity if happiness improvements translate to improved demand.