This segment is in the ONLY retail industry with unit growth in 2022
Beauty is the only U.S. retail industry experiencing unit growth in 2022.

From apparel and autos to electronics and toys, no other category had positive year-to-date volumes through mid-September.
Why are Americans buying more scented face cream and perfume when the economy needs a serious makeover?
We gave members a whiff last month when we discussed The Lipstick Index.
Simply put, when the economy gets ugly, women tend to buy more lipstick.
This may sound like a proverbial 'lipstick on a pig' situation but it makes perfect sense. That's because beauty products are perceived as 'affordable luxury'.

So, when the latest housewares and tech gadgets get out of reach, premium lip gloss and lotion take their place.

The Lipstick Index came from former Estee Lauder chairman Leonard Lauder two decades ago but rings true in today's inflationary environment.

Prices in some retail categories are up 10%, 15%, or more this year. Beauty product price increases, on the other hand, have been a far more modest 2%.

We think this sets the beauty space up for continued outperformance that should ultimately translate to better financial results and stock prices.

Our mascara-lined eyes are on one company in particular—None other than Estee Lauder!

Why? There's more to the story.

Not all beauty segments are crushing it
1. 'Prestige Beauty' is Outshining 'Mass Market Beauty'
The mass market channel of the U.S. beauty industry is actually seeing unit declines. On average, the price points are lower here, as are shoppers' household incomes. Mass market consumers are in 'thrifty' mode, so discretionary makeup and skincare purchases are getting scaled back.

Conversely, prestige beauty shoppers have higher average incomes and are less impacted by inflation. They continue to stock up on their favorite products and are driving overall unit growth.

Estee Lauder is a leader in the global prestige beauty market. This is why we are seeing strong EL data relative to other beauty industry players.

The LikeFolio outlier grid reveals that growth in EL Purchase Intent mentions is significantly ahead of the competition on a long-term basis. Consumer sentiment readings are also favorable.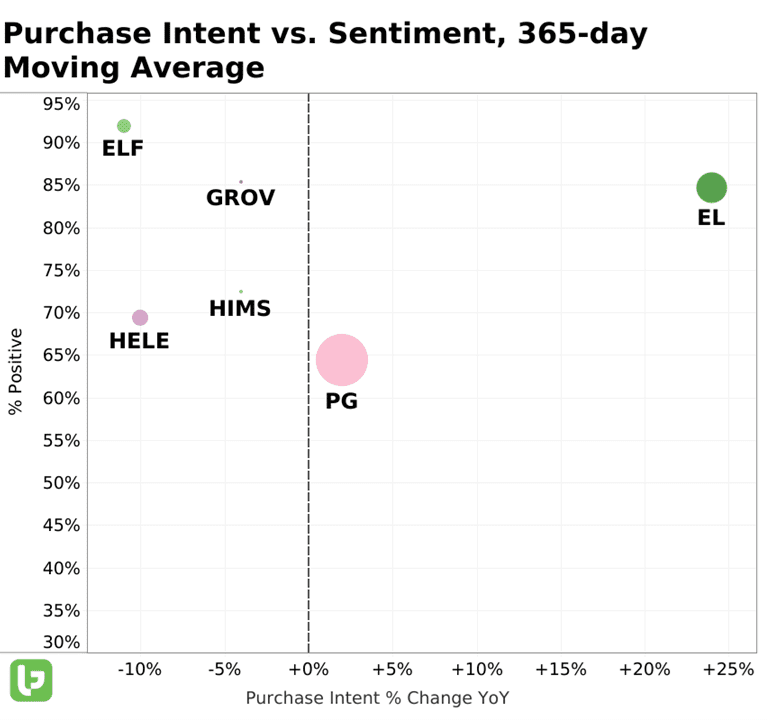 This tells us that Estee Lauder has a loyal, affluent customer base that is buying more skincare, makeup, fragrance, and hair care products even as economic uncertainty rises.

But it's about more than just being in the high-end of the market.

Estee Lauder's strong product portfolio is separating it from the pack. Its more than two dozen brands are sold at brick-and-mortar and online stores worldwide.

Among the brands generating the most social media buzz:
The flagship Estee Lauder brand - Iconic skin care, makeup, and fragrances.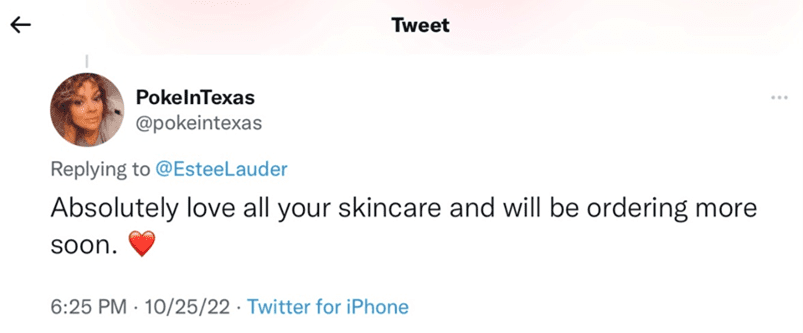 Clinique – Fragrance-free skin care for simple routines and remarkable results that's been around since 1968.
Bobbi Brown – Created by makeup artist Bobbi Brown to empower women to embrace individual beauty.
Too Faced – A line of cruelty-free makeup that's about "unabashed girliness and the transformative power of cosmetics" with edgy names like 'Better Than Sex' mascara.
Yeah, we won't go there, but we will say that Estee Lauder's demand trends are healthy.

Ok, but if consumers are looking so good, then why does the stock chart look so unattractive? Seems a bit, shall we say, Too Faced.

Well, let's look to the East…the Far East.
2. Estee Lauder Has a China Problem
Despite its presence in more than 150 countries, Estee Lauder is being slowed by one country—China.

Like Nike and others heavily dependent on the Chinese consumer for growth, Estee Lauder is being hurt by the government's zero-tolerance Covid policies. Restrictions in the region have kept the lid on potential China sales both from local consumers and travelers.

Since China has historically accounted for more than one-third of Estee Lauder's sales, Covid curbs have weighed on recent results. Sales fell 10% in fiscal Q1 driven by a 15% decline in the Asia/Pacific region—and that includes some strong growth in Japan, Malaysia, and Thailand.

China exposure is a big reason why EL is down over 40% year-to-date. The chart below shows the rolling 120-day correlation between the stock and the MSCI China ETF (MCHI). Lately, as China headlines go, so goes EL.
How long EL moves in tandem with China depends on Covid developments. Whether President Xi really loosens restrictions and pursues growth is anyone's guess.

What we do know is that EL won't be weighed down by China forever.

Pandemic pressures are bound to subside eventually. And when they do, they will lend way to the demographic trends backing Estee Lauder's long-term growth narrative.
3. EL's Secular Tailwinds are Beautiful
In 1H22, U.S. beauty product sales were 21% above pre-pandemic levels. Better yet, the growth was broad-based. All four categories are growing—makeup, skincare, fragrances, and hair care.

The industry is expected to build off this growth over the next couple of years.
Assuming price hikes remain minimal, what will drive growth?

In the intermediate term, the industry should continue to get a boost from pandemic tailwinds:
A return to normal – People are returning to the office and re-engaging in social activities. Natural looks and ponytails are out. Buying natural cosmetics and shiny shampoos are in.
A shift from products to experiences – Consumers are spending more on experiences like trips and dinner parties in the post-Covid economy. No, Estee Lauder doesn't sell experiences, but they do sell the products that get people looking their best for these experiences.
Longer-term, sustained growth should be derived from:
Beauty's emotional connection – Low consumer sentiment is good for the industry because people needing a pick-me-up turn to affordable beauty products. If a recession hits and consumers feel down, EL products will satisfy an emotional need.
Mental well-being – Increased focus on mental health is altering consumer purchase behavior. Products like cosmetics that make us feel good about ourselves are important and enable beauty brands to further tap into an emotional bond.
Mo' money, less problems – Since the prestige beauty space is skewed to higher income shoppers, companies like EL have inflation resistance.
This all makes sense for the long haul, but will shoppers really spend on premium moisturizers and eyeshadows this holiday season?

LikeFolio data suggests they will.

On a 365-day moving average, purchasing skincare and makeup mentions are each up more than 30% YoY.

This confirms that consumers are still spending on items that make them look and feel good as they prepare for holiday gatherings and travel. They may even buy the stuff as gifts!
With the economy on shaky footing, there aren't many bright product categories in retail right now. But as The Lipstick Index reminds us, we shouldn't be surprised that cosmetics is one of them.
Estee Lauder seems to have the winning combination of resilient demand and happy consumers that will do well in this market.
We'll keep monitoring consumer sentiment toward EL's prestige beauty brands to see if this changes.
Our instinct is that patient investors could be in for some glossy returns.