3 Beverage Trends Shaking up the Alcohol Market
Summer is so close you can feel it.
The smell of fresh cut grass and sizzling fire pits are wafting in the (increasingly humid) breeze.
It's prime time for poolside and porch sitting…which calls for a beverage of choice.
At LikeFolio, we're watching for signs that consumers are cracking open a can or bottle – specifically, WHICH can or bottle.
And data reveals 3 key consumer trends related to recreational beverage consumption…2 of which really surprised me.
1. Non-Alcoholic Drinks are More Popular Than Ever
Nielsen calls the rise in non-alcoholic beverages part of a "sober curious movement," driven in part by consumers embracing healthier lifestyles and examining their relationship with alcohol.
To give scale, in January total alcohol sales decreased 6.7% YoY while non-alcohol product sales increased by +19% YoY as reported by off-premise outlets in the U.S. It's important to note the year-over-year measuring stick here. This means the behavior shift is not just a seasonal shift as consumers kick off New Years Resolutions, it's a priority shift.
This phenomenon is especially true of younger generations.
LikeFolio data confirms this mindset.
Consumer demand for non-alcoholic beverages has risen by +40% YoY.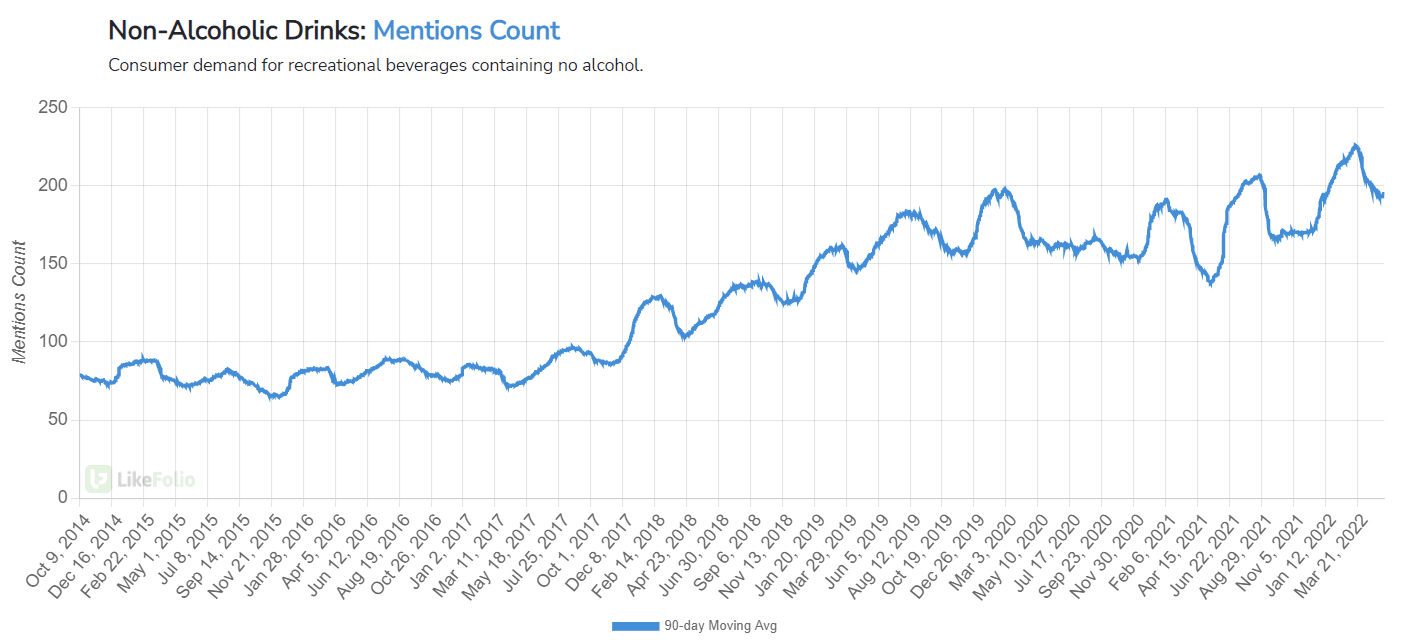 Tweets reveal consumers are turning toward non-alcoholic replacements that taste like the real thing but lack the punch…brands like Seedlip, Ritual, and Lyre.
While these brands ARE gaining popularity among this specific audience sect, not all consumers are giving up the real thing.
2. Ready-To-Drink Cocktail Demand Has more than Doubled since 2019
Consumer mentions of cracking open a pre-mixed cocktail just reached all-time highs.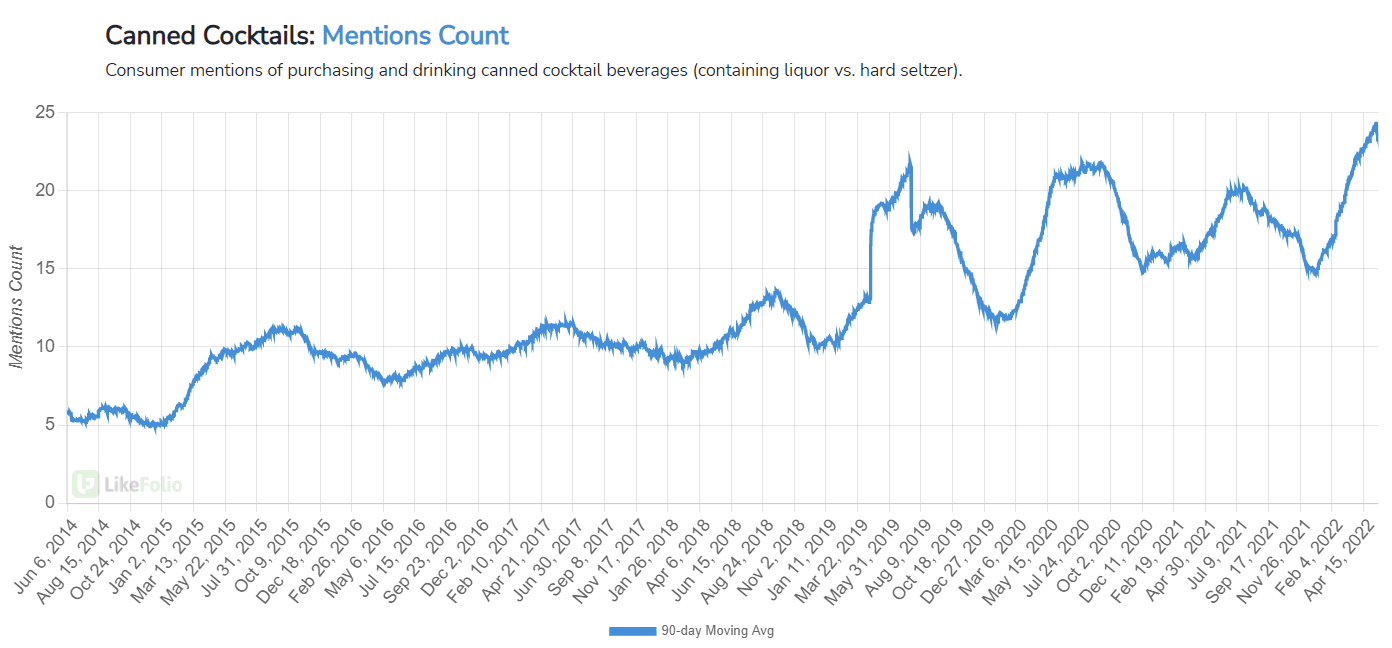 And mentions suggest multiple drivers of demand. Many consumers like the convenience and grab-n-go element of the beverage, and others are seeking a non-carbonated option.
One brand on the rise benefitting form this tailwind is called NOCA (No Carbonation), deeming itself "the boozy beverage for people who don't like carbonation."
Another brand called Funny Water, was created with festival-goers in mind.
Looking ahead, keep an eye out for companies with Ready-To-Drink (RTD) canned cocktails in their arsenal. For example, Coca-Cola and Molson Coors are partnering to introduce Simply Spiked Lemonade -- powered by Simply Juice and marketed as a light summer cocktail.
Molson Coors is also testing Arnold Palmer Spiked Lite. Buzz for both brands is building significantly.
Each of these prior trends spell trouble for a once-idolized alcohol segment: Hard Seltzers.
3. Hard Seltzer Growth is Waning
Demand growth continues to drop for the third summer in a row.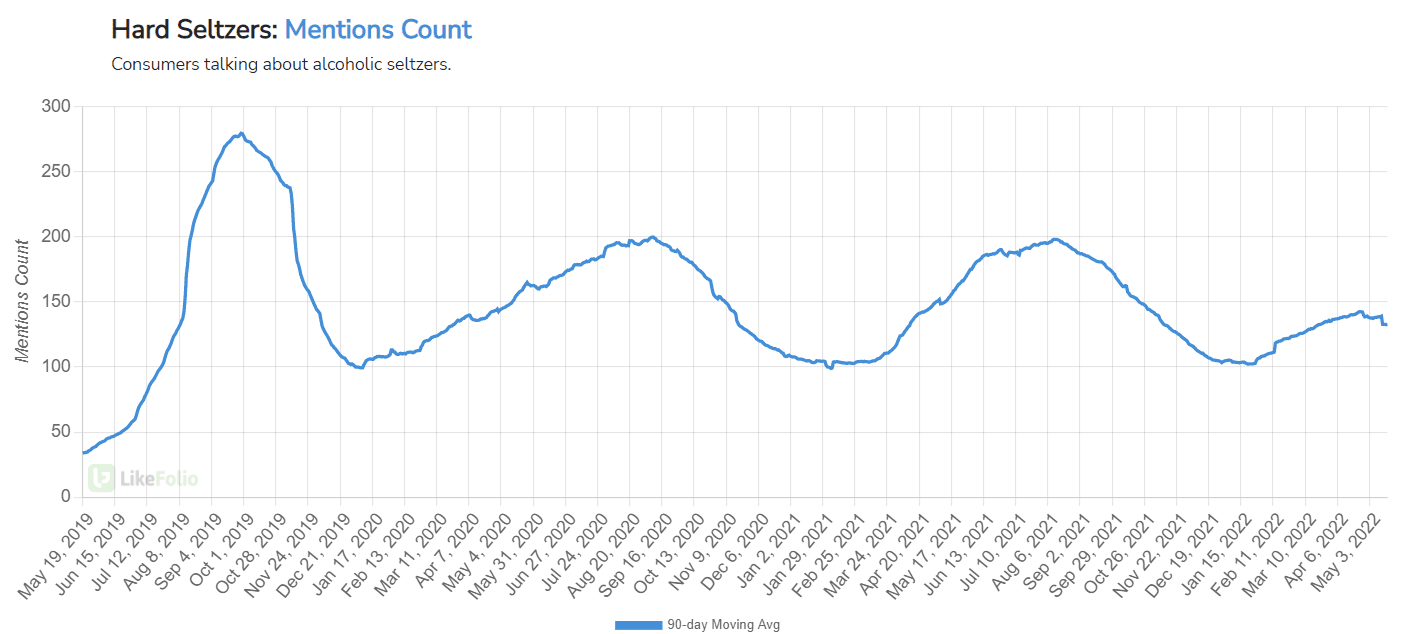 After rocketing on the scene in 2019, the fizzy beverages are losing their luster in the eyes of consumers.
This played out in a harsh way for Boston Beer Company (SAM) last fall, after the company noted it aggressively overestimated consumer consumption rates.
And the company wasn't alone. Constellation Brands also racked up a $66 million obsolescence charge related to excess hard seltzer inventory.
The key takeaway: Based on current consumer trends, beverage companies can expect this demand slow-down to continue into the 2022 high season.
If only these companies had access to real-time consumer data…
If you're a brand manager interesting in learning more about how to incorporate powerful consumer trends into your workflow, schedule a quick demo.