3 Companies are Benefitting from this Still Popular Post-Pandemic Trend…
Every Tuesday LikeFolio covers a major trend impacting consumer purchasing decisions.

Sometimes we start hunting for these big trend winners (or losers) by digging into growth patterns for the more than +900 trends we track.

But this time, the trend revealed itself through our own qualitative mention analysis of brands gaining ground with consumers.

The same phrases kept popping up in demand mentions for the cult-favorite NOBULL athletic shoes and accessories, in discovery mentions on Pinterest (PINS), and in procuring a more natural look with E.L.F. Beauty (ELF) cosmetics.

So what do an athletic wear, makeup, and "social media" company have in common?

Minimalism.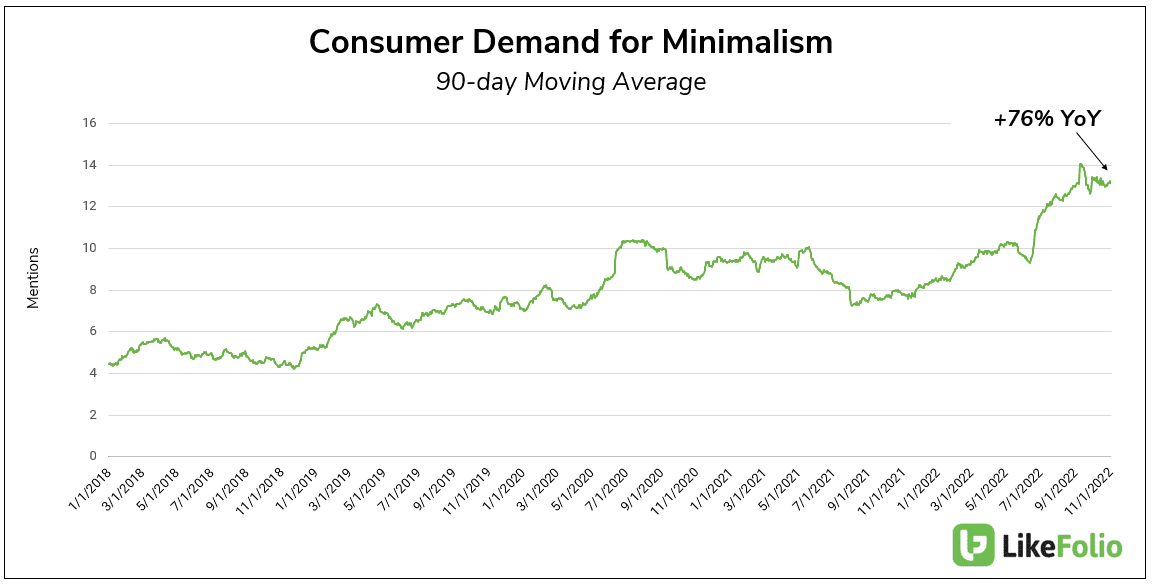 Consumer mentions of seeking minimalism in the products they purchase and designs they seek have increased by +76% YoY.

Mentions like this:
Minimalism has three main characteristics: simplicity, usefulness, and clarity.

Here's how three major brands are cashing in on this rising trend…

NOBULL Shoes Provide Comfort, Functionality

Usefulness (or functionality) is one of the main components of minimalism.
And this is where NOBULL shines.

NOBULL shoes are "purposely minimalist" in design and prioritize usefulness for their audience.

Case in point: Consumers rave about NOBULL's extra spacious toe-box that is ideal for weightlifters and cross-fitters alike.
The brand is now expanding beyond its traditional weight-lifting model into other areas of training from running outside to turf.

And so far, it's working.

NOBULL shoes have surged in popularity over the last year.
Consumers Seeking Minimalist Design Turn to Pinterest (PINS)

Pinterest is a mecca for consumers seeking inspiration and product discovery.

We all followed its pandemic boom driven by those of us stuck at home and seeking ideas…from recipes to home renovation.

While PINS shares have cooled, its value proposition to consumers hasn't changed.

(We touched on this before.)

When we listened to consumers who were talking about using Pinterest for product inspiration, minimalism appeared again.
To be clear – in this instance, it's more important that consumers are turning to Pinterest for design inspiration (vs. the adoption of minimalism in general).

In other words, Pinterest wins any time consumer design preferences change. Because a captive consumer looking to update his/her aesthetic is an advertiser's dream.

And based on consumer usage mentions, Pinterest platform usage is rising again on a QoQ and YoY basis:
This opportunity could be significant when advertising budgets are normalized.

E.L.F Beauty Embraces Natural Beauty and Clean Ingredients

Minimalism extends beyond product and home design. Ripple effects can be seen in makeup trends!

Can you remember when the Kardashians rose to fame and elaborate "beauty" palettes were all the rage?

Oh, how times have changed.

Now consumers are embracing the "natural" look – think clean ingredients and muted cosmetic application.

And e.l.f. is primed to win. Not only is the company well-known for its simple packaging and affordable pricing, but consumers tout its usefulness in achieving a "minimal" beauty aesthetic.
Comprehensive ELF demand has risen by +26% YoY…and shares are trading at all-time highs.

The company's stock soared following third quarter results featuring better-than-expected earnings driven by the brand's pricing power.

Bottom Line: High level consumer behavior "trends" power brand purchases.

We expect continued outperformance for names that can effectively harness these trend tailwinds. For now, ELF and PINS remain solid bets.