All the right people are complaining about Netflix (NFLX)
Netflix's (NFLX) 22Q4 earnings sparked some controversy.
Not in the eyes of investors, but in the eyes of users.
Or should we say freeloaders?
In its shareholder letter, the company noted that it will roll out paid sharing more broadly in the latter half of the first quarter in 2023.
NFLX went on to note that 100 million+ households are sharing accounts, therefore undermining the company's ability to invest, improve, and build the streaming service.
LikeFolio data recorded an uproar in negative sentiment recently after consumers caught wind of what is coming: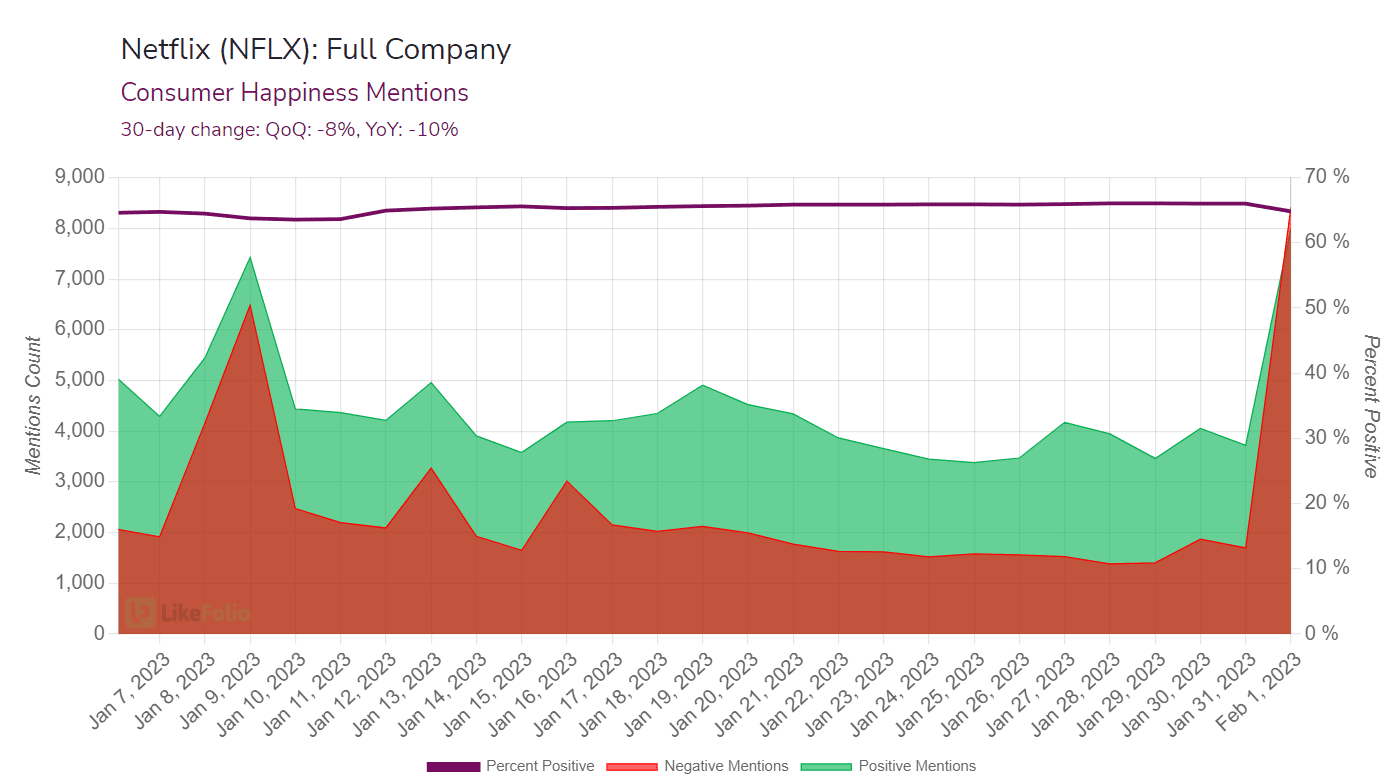 Some users are taking the cyberbullying approach:
Others are bringing up receipts from years past:
And then some plan to go the illegal route:
While the whining may be loud, Netflix only needs a small percentage of net new users for this move to be a win.
Some account owners may cancel in protest…at first…but will they truly desert the platform for the long haul?
Many sharers may accept that it IS time they got off their parent's accounts, especially now that a low-priced ad tier is in place.
Netflix is in a bit of hot water, but it's expected to cool off.
The shareholder letter forecasted how this U.S. rollout might go from the policy enactment in Latin America:
"From our experience in Latin America, we expect some cancel reaction in each market when we roll out paid sharing, which impacts near term member growth. But as borrower households begin to activate their own standalone accounts and extra member accounts are added, we expect to see improved overall revenue, which is our goal with all plan and pricing changes."
While a lot of the internet is clearly upset, Netflix higher-ups anticipated this reaction.
Greg Peters – Netflix's COO & CPO noted in the January earnings call:
"And, you know, I think it's worth noting that this will not be a universally popular move. So, there will be current members that are unhappy with this move. We'll see a bit of a cancel reaction to that. We think of this as, you know, similar to what we see when we raise prices, you know, so we get some increased churn associated with that for a period of time.
But then, generally, what happens is, you know, both from the, you know, the specific changes that we make, we'll see folks come on as new subscribers, essentially borrowers creating their accounts or incremental monetization through the extra member that'll happen shortly thereafter."
Still, it's too early to tell what will actually happen on the monetary side once the new password sharing policy officially takes effect in the U.S.
BUT if Netflix debuts another series like Wednesday or Harry & Meghan, this outrage won't last too long in LikeFolio's humble opinion.