Apple's Latest Reveals: The Buzz, The Benefits, and The Bottom Line
The Apple memes never get old.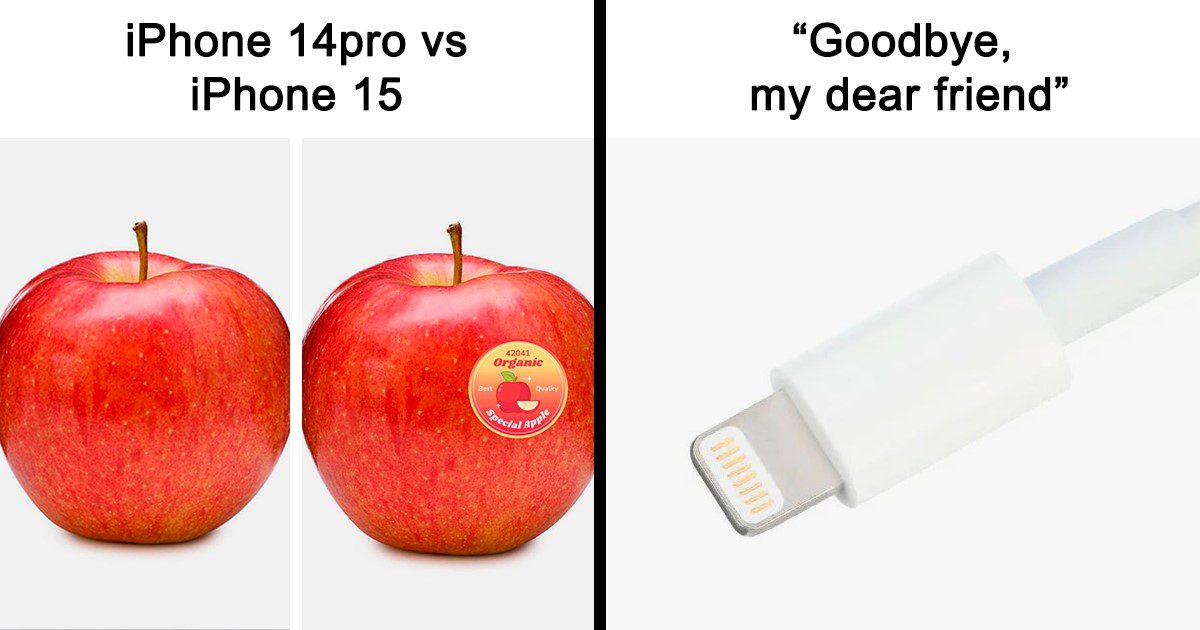 It's easy to poke fun at the tech giant – after all, no one feels sorry for jokes at Apple's expense…especially Apple, who is laughing all they way to the bank with more than $80 billion in revenue last quarter alone.
But at LikeFolio, we're digging a bit deeper.
At Apple's last keynote event (Sept. 13) it announced updates for 3 of its core product offerings.
Here's what was announced, and how consumers have responded so far.
Spoiler Alert: the iPhone may be heating up…
iPhone
Apple released 4 iterations of the new iPhone 15, described below.
iPhone 15: Features Super Retina XDR, A16 bionic chip, advanced 48-megapixel camera system with auto portrait mode and 4K recording. Priced starting at $799.
iPhone 15 Plus: A larger variant of the iPhone 15, it offers the same Super Retina XDR, A16 bionic chip, and 48-megapixel camera system, optimized for those who prefer a bigger display. Priced starting at $899.
iPhone 15 Pro: Described as the "most Pro iPhone" by Apple, it comes in titanium, is designed with gaming in mind, features the new A17 Pro chip, and has a Pro camera with multiple lenses. Priced starting at $999.
iPhone 15 Pro Max: Showcases flagship camera capabilities with a 120 mm-equivalent lens, 25% larger sensor, and 5x telephoto lens. Priced starting at $1,199.
LikeFolio suggests positive traction – iPhone buzz is currently pacing +3% higher on a YoY basis.
The kicker?
A report began circulating earlier this week highlighting potential overheating issues.
So far, this has not impacted consumer happiness ratings. In fact, iPhone sentiment has been boosted by 4 points since the product announcement.
It's important to note that this is the first week phones are landing in the hands of many consumers. (first estimated ship date was 9/26). It will be imperative to continue to monitor this, to determine if issues will impact demand or prompt a response from the company.
So far, comments aren't moving the needle in a negative way.
Apple Watch and Airpods
Apple Watch Series 9: Powered by the new S9 chip, which is 60% faster with a 30% faster GPU. New features include access to health data with Siri, Name Drop, Double Tap, and the ability to ping your iPhone. Priced starting at $399.
Apple Watch Ultra 2: An update to the previous Apple Watch Ultra, it also features the S9 chip, double tap, on-device Siri, and precision-finding. Priced starting at $799.
AirPods will now feature a USB-C connector. The USB-C powered AirPods Pro 2 will be available at $249. Additionally, wired EarPods with a USB-C connector will be available at $19.
Consumer interest in both products is failing to reach levels achieved in 2022.
However, the Holiday season will be the real consumer test for both of these consumer "gifts".
Bottom line
So far, it appears the new iPhone lineup is turning heads.
Web visits are up by +4% YoY, a positive indication of consumer interest.
And Apple's switch to a USB-C charging device may actually prove to be a good move.
Why?
Universal Standard & Ecosystem Consistency: By adopting USB-C, Apple aligns its products with an industry-wide standard, ensuring easier compatibility for users across devices. This move also brings consistency within Apple's ecosystem, as products like the MacBook and iPad Pro already use USB-C.
Enhanced Performance: USB-C offers faster data transfer rates and supports higher power delivery, leading to quicker file transfers and reduced charging times, enhancing the overall user experience.
We'll continue to monitor all products ahead of a critical holiday season – but early metrics suggest that Apple still has consumers right where it wants them when it comes to their favorite device…