Nike: A Swoosh in the Wrong Direction?
Imagine lacing up your running shoes, the wind in your hair, the road ahead clear, and then, suddenly, you stumble over an unseen obstacle. This scenario somewhat mirrors Nike's current predicament in the consumer market.
In a surprising turn of events, Nike has found itself lagging behind the consumer trends it once dominated. The company missed its earnings estimates for the first time in 3 years last quarter, with lower margins impacting profits significantly.
The ripple effect? A 21% plunge in NKE shares in the last three months.
The question on everyone's mind is, will the landslide continue?
Here's a closer look at what we at LikeFolio are scrutinizing.
Inventory Overload
Nike's struggle with bloated inventory levels has been a persistent narrative. Despite offloading about $400 million in inventories, the value remained flat at $8.5 billion at the end of the fourth quarter, a stark 23% higher than the levels seen in 2021.
In addition, Nike's unexpected move to offload inventory via discounted sales at Costco may prove less-than-ideal – this is a strategy previously associated with less prominent brands like Puma and Reebok.
Demand Miscalculation
Analysts speculate that Nike might have overestimated consumer demand, leading to a slower adjustment to the growth rates in a challenging consumer economy. However, Nike maintains a positive outlook, deeming its inventory levels healthy and ahead of their plans.
Wholesale Woes
To mitigate its inventory challenges, Nike has leaned on its wholesale partners, boosting its wholesale revenue but also denting its margins. The moderation of revenue from this segment in Q4 and the restoration of some previous wholesale relationships hint at a possible shift in strategy.
CEO John Donahoe emphasizes the brand's focus on aligning with consumer shopping preferences across both digital and physical realms. Nike's direct business is expected to continue growing rapidly, but they also plan to expand their marketplace strategy to reach as many consumers as possible.
LikeFolio's Perspective
Is a turnaround for Nike in the cards?
Not yet.
While we can't speak to Nike's inventory management, other metrics appear to be muted for the athletic behemoth.
The brand, although maintaining a 67% consumer mindshare, is showing signs of instability with a 6-point drop in mention volume-share from a quarter ago.
In addition, Nike finds itself in the back of the pack when it comes to overall levels of consumer happiness as other brands (like the On Cloud running shoe) steal the spotlight.
Moreover, the slowing down of Nike's digital growth, with web traffic visits up just +3% on a YoY basis, indicates a concerning trend.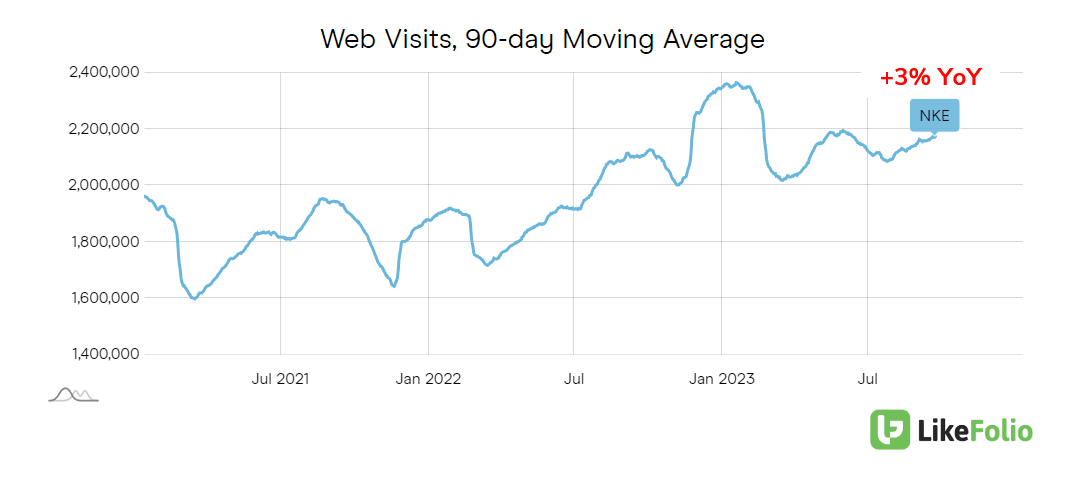 The Silver Lining:
It's not all storm clouds for Nike. The brand's broad portfolio and resilient sub-brands like Jordan and Nike Dunks, are keeping it in the game, even as once viral Air Force 1s and Air Maxes wane in popularity.
The impressive $50 billion revenue in Fiscal '23, a 16% growth, is a testament to Nike's enduring appeal across diverse categories and geographies.
Concluding Thoughts

Even though the bar is low, we're not jumping on the bullish bandwagon just yet.
The declining consumer buzz and subpar consumer happiness levels make a stronger case for a downside.
It seems the pendulum is currently swinging away from Nike's favor, but whether this is a fleeting phase or a new norm, only time will unveil. For now, investors and sneakerheads alike, stay tuned and keep those senses sharp!