FDX vs. UPS: Is the Market Betting on the Wrong Horse?
"Two roads diverged in a wood, and I— I took the one less traveled by," Robert Frost once wrote. In the logistics world, FedEx (FDX) and UPS are at such a crossroads.
Stocks for both shipping giants have taken two drastically different paths over the last year.
But as the market and analysts rally behind FedEx, one key LikeFolio metric suggests that Wall Street might be cheering for the underdog a tad prematurely.
Let's dive in.
The Economic Backdrop
With the Federal Reserve tightening its grip to combat inflation, stocks are navigating choppy waters. Yet, FedEx is emerging as a beacon of hope—a "self-help story" if you will. It's believed that the company's fate is largely in its own hands, rather than being at the mercy of broader economic trends.
Why the Upgrade?
FedEx has ambitious plans on the horizon. Aiming to slash costs by a whopping $6 billion by 2027, the company has set its sights on profit margins of 12% to 13%. While competitors like UPS are already hovering around these margins, FedEx's roadmap to profitability is clear and compelling. Couple this with its recent quarterly profit beat, and it's easy to see why investors are intrigued.
The company's stock performance and market sentiment are painting a rosy picture, but is it all too good to be true?
The Last Quarter in Review
FedEx's recent quarterly report was nothing short of impressive. A 32% surge in fiscal first-quarter adjusted earnings sent its shares soaring by 5%. Strategic cost-cutting and a shift in clientele from rivals like UPS and Yellow played a pivotal role in this uptick. Despite some operational hiccups, FedEx is gearing up for a promising holiday season.
Closing the Gap
LikeFolio data does reveal some shifting momentum. FedEx is slowly but surely catching up to UPS. With a 6% YoY increase in web visits compared to UPS's 2%, FedEx is making its presence felt. However, UPS still wears the crown in this domain.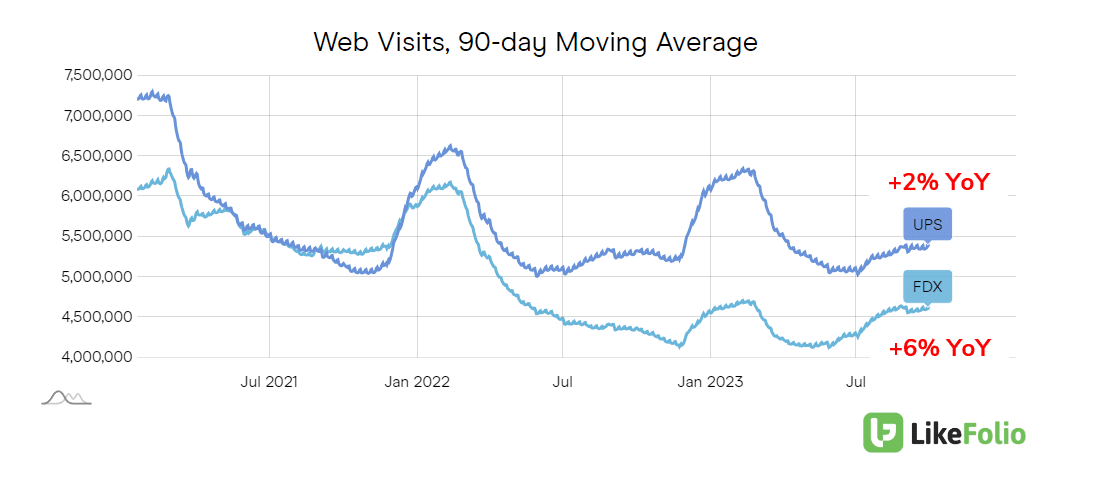 Operational Divergence
While both FedEx and UPS are behemoths in the delivery realm, their operational strategies differ. FedEx is renowned for its long-distance rapid delivery and dominates in international air express shipping with a fleet size that's double that of UPS. Conversely, UPS excels in domestic ground package delivery, boasting a larger fleet of ground vehicles.
While FedEx often collaborates with the USPS for many eCommerce shipments (flying a package to a USPS hub and relying on the postal service for the last mile), UPS provides additional services like supply chain management and customs brokerage, catering especially to businesses venturing into international online sales.
Consumer Happiness—The Achilles Heel
Here's where the plot thickens.
FedEx's consumer happiness metric lags behind at 56% positive, while UPS boasts a healthier 62%. This metric is a telling sign. Given a choice, consumers seem to lean towards UPS. And as any LikeFolio aficionado would tell you, happiness is often a precursor to long-term growth.
E-Commerce Dynamics
With the global e-commerce market's growth rate expected to hover around 8% in the coming years, FedEx's mentions have seen a dip.
This trend, as we approach the holiday season, is worth monitoring.
The Verdict
While Wall Street's current darling might be FedEx, LikeFolio data suggests that the consumer jury is still out. The upcoming holiday season will be the ultimate test.
Will FedEx sustain its impressive 71% YoY share price surge?
Or will UPS, with its superior consumer happiness metric and a 3% dip in share price over the same period, emerge as the dark horse?
Only time will tell. But something tells us we may be betting on the dark horse.