Nike is Looking Flat-footed…
Shares of Nike are running ahead of Thursday's fiscal Q4 earnings release.
Partly because of the broader market rally. But also, because traders are anticipating a consensus-topping performance.
Wall Street is expecting just 3% revenue growth and a -24% drop in profits. Considering how low the bar has been set, the sneaker king could easily hurdle these forecasts.
But it may matter little. After all, NKE has comfortably beat Street EPS estimates in each of the first three quarters of fiscal 2023. And yet the stock is virtually flat over the last 12 months.
Investors may instead be more interested to hear management's outlook for the new fiscal year.
Will high inventory levels and the related need to cut prices remain an issue?
Are rising costs expected to eat further into profits?
What about the foreign exchange headwinds?
Last time out, NKE beat on sales and EPS but provided some daunting metrics around inventories and China. Since LikeFolio data showed weakened consumer demand and sentiment in an unfavorable discretionary spending environment, we were braced for disappointment. We took a bearish position on our earnings trade and the stock finished the week lower.
Have things improved since?
Yes and No.
Consumer Demand is Climbing but…
NKE Purchase Intent is up sharply QoQ and hovering near a three-year high.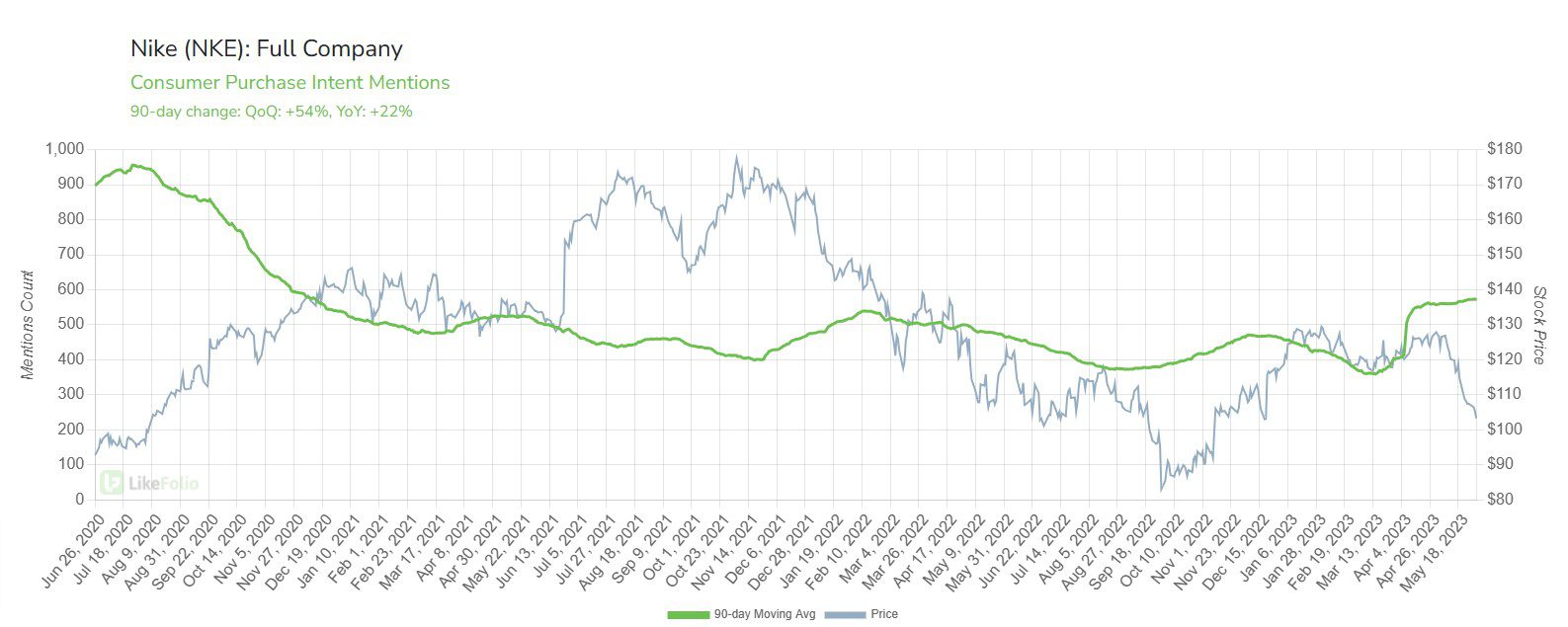 Recent product launches seem to be gaining traction including:
The Luka 2 inspired by NBA star Luka Doncic.
And the Teyana Taylor Jordan Brand Collection.
We suspect the surge in demand also relates to a surprising 2023 comeback for athleisure wear. Casual work attire trends and social acceptance of athletic gear has consumers shopping for comfy yet chique sweats and summer outfits again. Game on for Nike branded sportswear?
Not so fast…
…Sentiment is Weakening
NKE Happiness mentions are down -10% YoY. Consumer sentiment turned starkly negative in April and has yet to improve.
The main reason — Nike hired transgender influencer Dylan Mulvaney to promote women's sports bras. Far from 'supportive', calls to boycott Nike soon followed.
After seeing Bud Light's impact of sticking a corporate nose into polarizing social issues on parent Anheuser Busch's financials and stock, taking one side or the other on NKE feels risky.
Chillin' on the Sidelines
We are encouraged by the uptick in NKE consumer demand and the rebirth of athleisure wear. The consumer backlash that took hold for most of the reporting period, however, is hard to ignore.
Putting these forces together, we are neutral on fiscal Q4 earnings.
The company will undoubtedly reassert its sneaker dominance over time, so we are still in the NKE ball game long-term.
But for now, it's best to just do it — and sit this quarter out.