Hibbett is Losing the Sporting Goods Game (HIBB, ASO, DKS)
When the Nike 'Panda Dunks' sneakers began hitting Hibbett Sports stores two months ago, we saw a spike in social media buzz.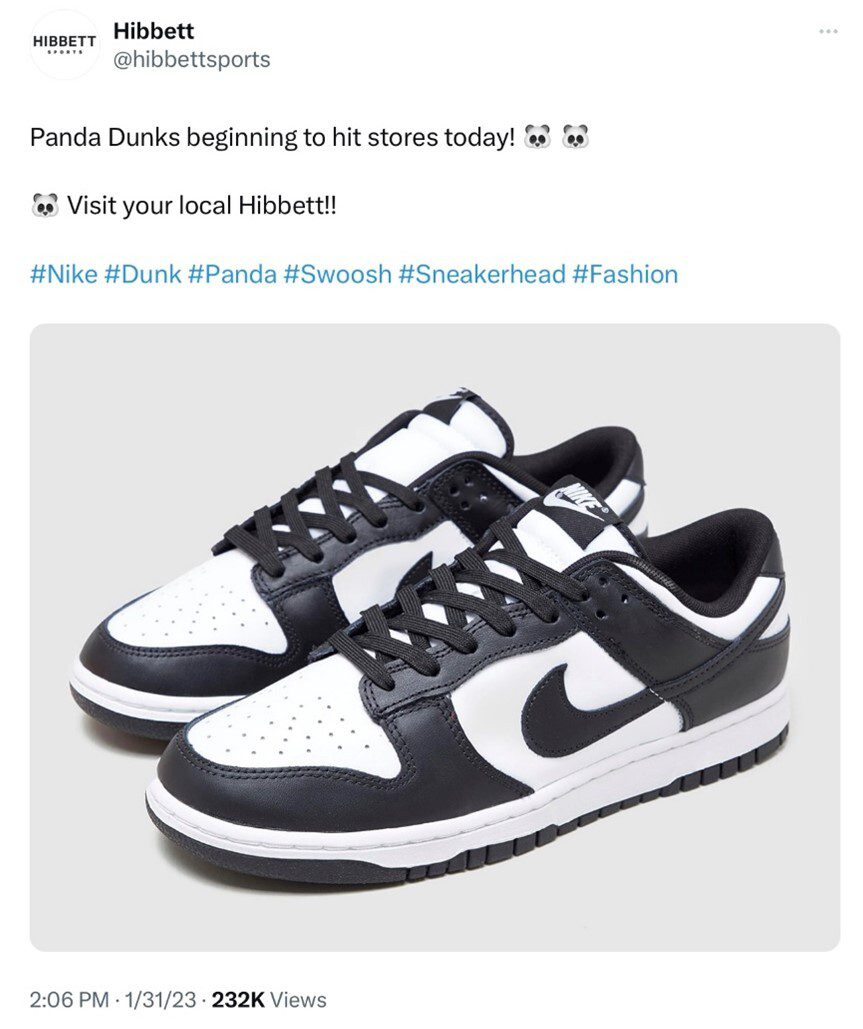 Unfortunately, this turned out to be momentary hype in what's been a weak 2023 for the athletic apparel retailer. HIBB Purchase Intent mentions are down -24% YoY on a 90-day average — and on pace for their 3rd worst quarter ever in 1Q23.
Worse yet, shoppers are visiting competitor stores and websites more frequently. Purchase Intent at Dick's Sporting Goods (DKS) and Academy Sports (ASO) is crushing that of HIBB.
Not a great sign considering HIBB's retail footprint is growing rapidly. There are now more than 1,100 Hibbett, City Gear, and Sports Additions stores.
HIBB's underperformance is especially disappointing given the macro tailwinds that are in its favor. Pandemic-fueled trends in athleisure wear and sports participation are persisting.
This suggests that inflation and higher interest rates are having a greater impact on HIBB customers. Buying the latest Jordan kicks and Adidas joggers is getting harder for the company's low-middle-income customer base.
Americans that can afford these discretionary items appear to favor DKS.
Not only does DKS have better pricing than HIBB, but the product quality and customer service are superior too, according to a recent Comparably survey.
HIBB's underperformance is also evident in LikeFolio consumer sentiment data. ASO and DKS are sporting Consumer Happiness readings that are miles ahead of HIBB.
DKS owns 14% of the $76 billion U.S. sporting goods market. For HIBB, it will be difficult to gain share when key customer metrics are lagging.
At the same time, HIBB is struggling with cost inflation. For the quarter that ended January 31st, adjusted EPS missed the Street's forecast. High freight, fuel, and wage expenses were to blame along with increased promotional activity.
Yes, DKS is facing the same macro pressures tied to supply chain disruption and a tight labor market. It's just managing them better. DKS 4Q22 earnings beat expectations.
For the next 12 months, the outlook for HIBB isn't great either. Management is anticipating 20%+ sales growth in each quarter, but the same cost pressures are expected to lead to minimal profit growth.
Consensus FY24 forecasts imply:
DKS +20% EPS growth
HIBB -10% EPS growth
Bottom line – HIBB is losing favor with consumers and struggling with economic headwinds more than its peers. It makes sense that HIBB is down -12% year-to-date while DKS and ASO are both up approximately 20%.
Based on LikeFolio data, we wouldn't be surprised to see HIBB fall further behind in the athletic gear race.