Sephora is sitting pretty $LVMH $ULTA
It's time to brush up on one of my favorite theories: The Lipstick Index.
If you're not familiar, here's a quick rundown…
As the economic conditions worsen, beauty sales get better.
Why?
Natallia Bambiza phrased it best, "At times when discretionary income is scarce and splurging on expensive non-essential goods is not an option, buying lipstick could be a way of escapism."
LikeFolio data confirms that Makeup Demand is pacing higher for the Spring of 2023.
This seasonal surge is right in line with Ulta Beauty's (ULTA) annual 21 days of beauty (well planned, Ulta).
So -- is Ulta doing a better job vs. its top peer, Sephora, in capitalizing on strong beauty product demand thanks to this seasonal sale?
We were surprised when analyzed the data…
Sephora is Inching Ahead of Ulta
Both Ulta and Sephora are experiencing an increase in total buzz as consumers reach for more cosmetics, and both retailers have high levels of consumer happiness (69% positive).
But Sephora is experiencing more growth in demand than Ulta, a critical metric to monitor because this translates to consumers actually making purchases.
Ecommerce data tells a similar story.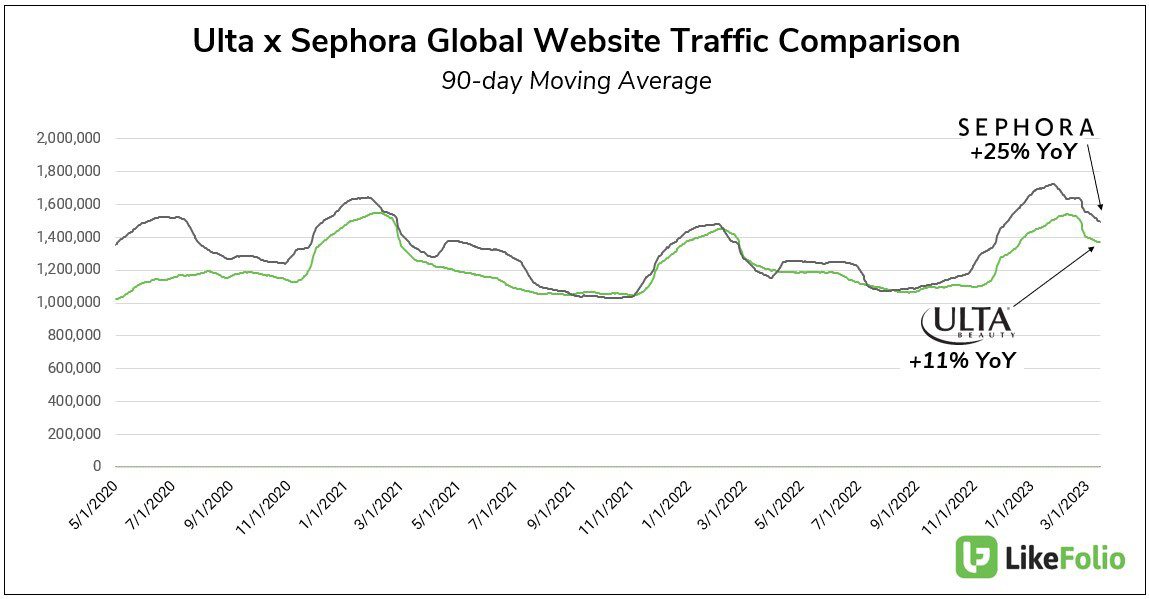 Not only is Sephora recording higher online traffic (and potential online transactions)…
Sephora web traffic has increased +25% YoY, compared to Ulta at +11% YoY.
But the gap is widening.
What's driving this?
High-end is winning once again.
The difference between these two beauty retailers resides in the average ticket size.
Sephora specializes in cosmetic and beauty products considered to be high-end or luxury…aka "prestige." This makes sense considering the brand's owner: Louis Vuitton (LVMH).
Ulta carries some prestige products but also caters to consumers looking to save by offering drugstore-level products in its stores.
To put this in perspective, a tube of lipstick will cost you $15 at Ulta (on average) vs. $27 at Sephora.
Across the makeup at Sephora is 65% more expensive vs. Ulta, with skincare and haircare showing even steeper divergences (+100% and +104% higher respectively).

LikeFolio's elevated demand for Sephora vs. Ulta demonstrates a major theme in our data.
Companies catering to high-earning consumers are outperforming.
Not only is the higher-earning consumer more insulated from the pressures of inflation, but companies are more able to pass along higher prices.
ULTA put out a strong 22Q4 earnings report last week, and it's not even leading the beauty pack on the consumer front.
We expect continued outperformance for beauty through spring, with prestige brands receiving an extra boost.