Side Hustles are the New Normal… $UPWK $FVRR
I think my algorithm is trying to tell me something…
Lately, my feed has been flooded with promotions of the "best side hustle" or "side hustle coaches"…whatever that means…
I'm not sure my algorithm knows this, but I'm already participating in the best side hustle that exists: Trading.
However, I started thinking about the average consumer.
For many in the current macro environment, maxing out credit cards is a way to make ends meet.
LikeFolio data suggests that consumer mentions of maxing out credit cards is testing all-time highs. And not backing down anytime soon…
While some are maxing, others are maximizing.
Per the Bureau of Labor Statistics, over 7.7 million workers in the US held 2 or more positions as of Sept. 2022.
Curiously, I conducted a probe to see how much chatter there is around side hustles.
The chart below displays mentions of consumers generically talking about a "side hustle," "side gig," or "side job."
Mentions are on an incline, up +49% YoY.
Naturally, the trader in me wanted to know who could be winning with the massive adoption of side hustles…
Here's what I found:
Demand for freelancing platforms is strong.
The popular freelancer marketplace, Upwork (UPWK) is showcasing extraordinary growth in demand.

Consumer Purchase Intent mentions for the company has increased +22% in this quarter alone, and +79% YoY.
But UPWK isn't the only freelancer-focused company we've got eyes on…
Fiverr (FVRR)'s Purchase Intent chart is charting similar demand growth:
In LikeFolio's January MegaTrends report, we highlighted FVRR as a major oversold, high value beneficiary.
Now, the stock is up almost +37% YTD.
Additionally, global website traffic is increasing for both freelance marketplaces.
The chart below shows an increase of visitors to each platform.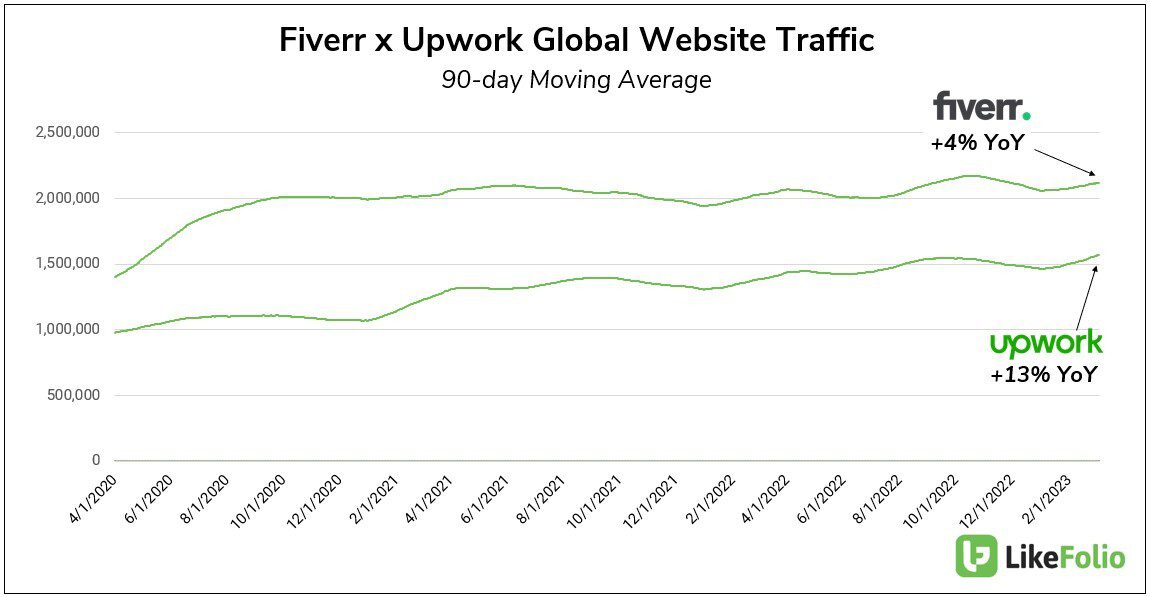 While FVRR has more overall traffic to its website, UPWK is gaining comparative momentum with a +13% YoY increase.
Bottom line: Side hustles are becoming more and more common, and the companies that provide marketplaces for people trying to make some extra spending money stand to benefit in the long run.